The late Pete Seeger was celebrated by musicians, singers, fans and his own family as they honoured him at the Radio 2 Folk Awards.
The event at London's Royal Albert Hall last night climaxed with a performance by his half-sister, US singer Peggy Seeger, who sang his song 'Quite Early Morning'.
Seeger, one of the world's best-known ambassadors for traditional music and a lifelong political activist, died last month at the age of 94.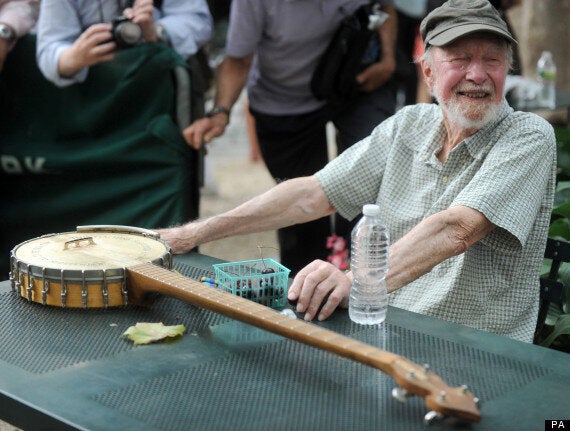 Late, great folk musician Pete Seeger was remembered last night at the Folk Awards
The BBC Radio 2 Folk Awards are an annual celebration, bringing together some of the biggest names to recognise achievements over the past 12 months in the UK's thriving folk scene, as well as giving awards to honour outstanding lifetime contributions.
WATCH ABOVE: Irish Band Clannad Thrill Audience With Medley From 'Harry's Game' - you'll recognise the haunting themes from about 3'20" in...
Folk supergroup The Full English, whose members have included luminaries such as Martin Carthy and Seth Lakeman, were among the big winners, taking a pair of prizes. They took the best group award and their self-titled release was named best album.
There had already been cause for celebration for the group's veteran guitarist Carthy, who was one of two recipients of pre-announced lifetime achievement awards at the ceremony, hosted by Mark Radcliffe and singer Julie Fowlis.
Musician Lisa Knapp took the best original song prize for her composition about Alzheimer's Disease, called Two Ravens, and Bella Hardy was named folk singer of the year.
Guests at the 4,500-capacity event saw performances by artists such as Bellowhead, Suzanne Vega, Clannad, Martin Simpson, Anais Mitchell & Jefferson Hamer, and The Full English.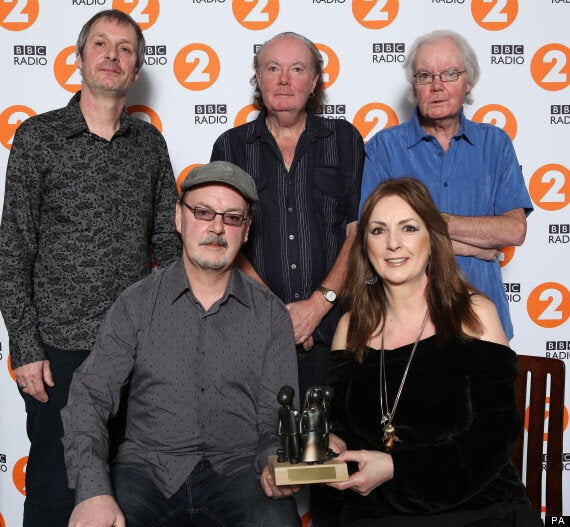 Irish folk band Clannad were presented with a lifetime achievement award
Shanty singers The Fisherman's Friends stepped back into the spotlight to perform for the first time since the deaths of band member Trevor Grills and tour manager Paul McMullen last year.
The other lifetime achievement award went to Irish group Clannad, with honorary prizes going to the Cambridge Folk Festival - taking the "good tradition" award - and folk archivist Cecil Sharp who was inducted into the event's hall of fame.
Radio 2 controller Bob Shennan said: "As a genre, folk continues to be an important part of Radio 2's schedule and we remain committed to broadcasting distinctive and specialist music content."
The event - now in its 15th year - was a little overshadowed by being scheduled at the same time as the Brit Awards.
It was broadcast by the station and highlights are also on the Radio 2 website and can be seen on the red button on TV.
The full list of Radio 2 Folk Award 2014 winners:
:: Folk singer of the year: Bella Hardy
:: Best duo: Phillip Henry & Hannah Martin
:: Best group - The Full English
:: Best album: The Full English - The Full English
:: Horizon award: Greg Russell & Ciaran Algar
:: Musician of the year: Aidan O'Rourke
:: Best original song: Two Ravens - Lisa Knapp
:: Best traditional track: Willie Of Winsbury - Anais Mitchell & Jefferson Hamer
:: BBC Radio 2 young folk award: The Mischa Macpherson Trio
:: Lifetime achievement award: Martin Carthy
:: Lifetime achievement award: Clannad
:: Good tradition award: Cambridge Folk Festival
:: Hall of fame: Cecil Sharp