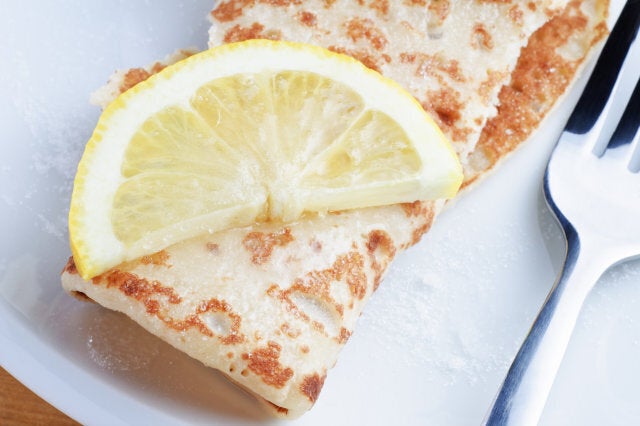 Pancake Day is fast approaching but before you even think about buying a box of pancake mix, let me tell you that pancakes are just about the easiest think to make in the kitchen with kids. What's more, children love tossing pancakes, cracking eggs, and creating imaginative toppings for pancakes.
So here is a fool-proof, child-friendly pancake recipe for Pancake Day.
My boys love pancakes for brunch on Saturdays and it's a birthday tradition in our house to have a pancake tower for breakfast, with birthday candles on the top!
But first - a quick history lesson. Shrove Tuesday, or Pancake Day, is the Tuesday before Lent, on which day Christians would traditionally use up all the tasty treats that were lurking in their cupboards which they were giving up for Lent. What better way to brace yourself for a month of being virtuous than by making pancakes liberally sprinkled with sugar? Delicious.
1 tablespoon melted butter
Sprinkle the pinch of salt into the flour and sieve together into a large mixing bowl.
Make a well in the centre of the flour and crack in the eggs, then whisk the mixture, adding the milk gradually. Keep whisking until it's light and fluffy.
Melt the butter in the microwave and then beat it in to the mixture.
Some people swear by leaving the batter to stand or popping it into the fridge for an hour but personally I'm not convinced it makes much difference.
When you're ready to eat simply melt some butter in a frying pan and pour in just enough of the batter to coat the pan. Make sure you tilt the pan so that the batter covers the base of it.
Cook the pancake until bubbles appear on the surface or the edges start turning golden brown.
Now for the best bit - toss the pancake in the air and catch it in the pan on the other side, or if you're not feeling brave use a spatula to turn it over.
It'll only take a couple of minutes to cook, then pop it on a warm plate and sprinkle with the topping of your choice.
Lemon and sugar are traditional Shrove Tuesday toppings but we like them spread with jam, honey, or my personal favourite - chopped up bananas and chocolate spread.
If you prefer fluffy American style pancakes this blueberry pancake recipe is unbeatable, and we like to add some crispy bacon to the blueberries and maple syrup. Don't knock it till you've tried it, people.
Yum. Why wait till Pancake Day?!
* Credit where credit's due - I've had this recipe since I was a kid and think it originated from a very battered and much-loved copy of PARTY THINGS from the Usborne First Cookbooks range of children's books.