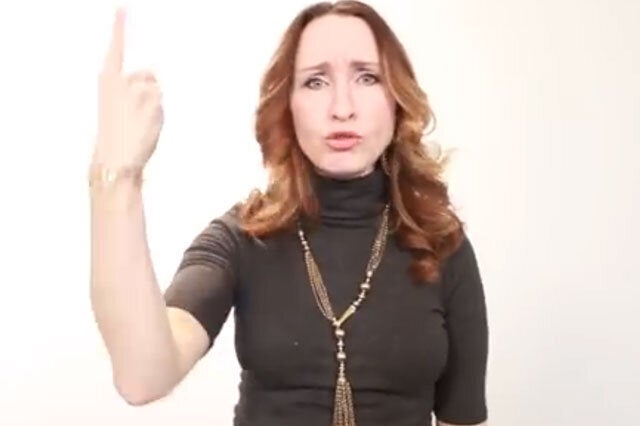 If you're sick of seeing photos of new celebrity mums showing off their flat-tummed post-pregnancy bodies, you'll enjoy this.
For a mother-of-two has created an hilarious film with the message to ordinary mums: be proud of your muffin top!
The tongue-in-cheek rap video has been made by stand-up comic Erin Keaney, 43, who proudly puts her stomach on show while chanting lyrics including 'bounce, carbohydrate, bounce'. She sings:
"The next time you wave your hands in the air.
"Don't be shy, let it fly, there's no need to be scared.
"Your muffin top just wants to come out.
"There's nothing wrong, sing this song, then start to shout.
"Bounce, carbohydrate, bounce.
"Bounce, carbohydrate, bounce.
"Embrace your mother load, we got to lead the way.
"Teach our kids to be confident in their bodies.
"Turn down the voice of peer pressure.
"We come in all different sizes, height, weight and colours."
In the closing verses of the celebratory song, Erin, from Toronto, raps:
"Shimmy what you got and let your belly shake, you're a mutha [sic] f****** warrior who likes to eat cake.
"So if your mama's got a little front bounce, remember you came from that nine month skin house."
Erin, who has two daughters aged seven and 10, said she wrote the song about four years ago and performed it as part of her comedy routine.
She said it took six to eight months to lose her pregnancy weight. Today her 5ft 8in frame is back to 10 stone but she said her body will never quite resume its former toned shape.
She said, proudly: "I made two babies. I had two miracles. It's fine."
Erin told Today.com that she was inspired to upload the rap video because she's sick of seeing magazine images of celebrities who appear to get back to their pre-baby size within weeks of giving birth.
She said: "It's not a realistic view of females' bodies."
At the last count, Erin's video had been watched more than 70,000 times on YouTube, with viewers praising her for promoting a positive body image.