Beyonce sure knows how to please her fans. The superstar halted her Mrs Carter Show in Birmingham this week to sing Happy Birthday to one mega supporter.
"You've got the sign and everything," Bey said, before stepping down from the stage to give the delighted fan a one on one performance.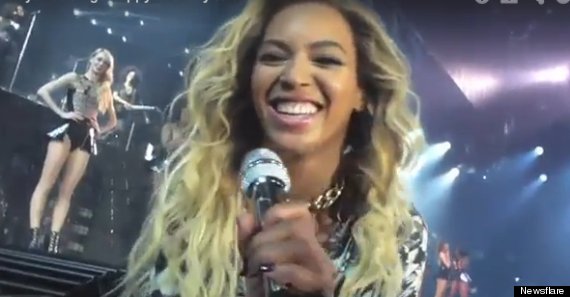 The lucky concert goer, Shehnaz Khan, told the Birmingham Mail: "I was wearing a birthday badge which she noticed early on in the show, she kind of nodded in acknowledgement. I've been to quite a few of her gigs. But I can't believe she stopped the show for me. I really wanted her to sing to me but I can't believe she did it.
"I was leaning over the barrier holding her hand and not realising the camera in my other hand was recording, everyone around me was going crazy."
Beyonce opened her Mrs. Carter Show World Tour in Glasgow, the day after performing at the Brit Awards last Wednesday.
The revamped concert's set list now includes several songs from her visual album including '***Flawless', 'Drunk in Love', 'Yoncé' and 'Partition'.
LIKE US ON FACEBOOK | FOLLOW US ON TWITTER