Cristiano Ronaldo's strike eight minutes from time earned Real Madrid a 2-2 draw with Atlético at the Vicente Calderón, but it was Germán Burgos' antics that dominated a fiery derby.
Atléti assistant Burgos had to be restrained by eight members of staff as he attempted to confront referee Carlos Ferreiro.
Burgos, appropriately nicknamed "The Bull", was furious Atlético striker Diego Costa was shown a yellow card for what Ferreiro deemed to be a dive.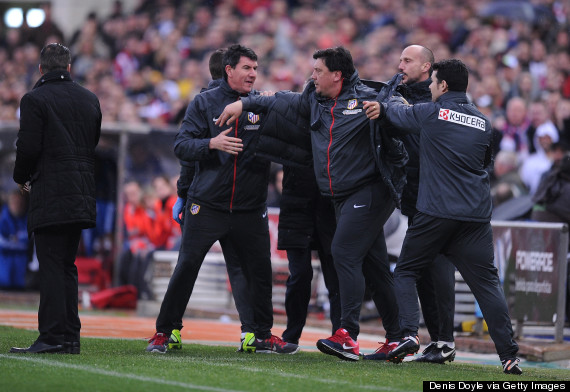 Burgos is held back by Atléti officials as he tries to confront Ferreiro
The Bull was sent to the dressing room, where he regained his composure.
Atlético, trailing Real by three points at kick-off, looked on course for the derby bragging rights after first-half strikes from Koke and Gabi had put them ahead following Karim Benzema's early opener for Real.
But Ronaldo lashed home in the 82nd minute to the relief of boss Carlo Ancelotti.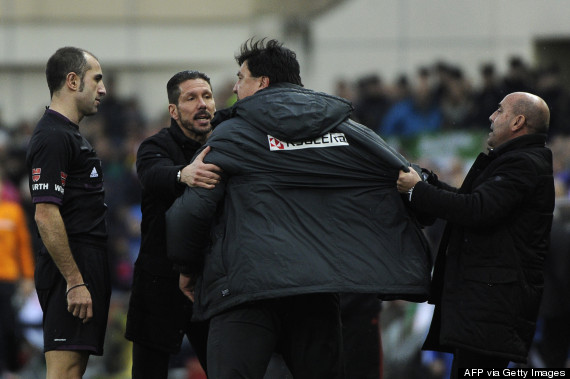 Burgos was sent to the dressing room after he tried to confront Ferreiro
The result thwarted Atlético's hopes of completing a league double over their more celebrated rivals for the first time since 1951, having beaten them at the Bernabéu 1-0 earlier in the season.