Dragons' Den ended its latest series on Sunday with a pitch from entrepreneur James Roupell, who dramatically ended up turning down all five Dragons as they fought to invest in his plush toy backpack business - Bobo Buddies.
Seeking £50,000 in investment in order to buy new stock, Roupell turned down all five Dragon investors as they were asking for 40% of the business - far more than he wanted to give away.
But now, Bobo Buddies is stocked by over 250 retailers in Britain and distributed to eight countries worldwide. The business' flagship item is a 4 in 1 backpack that combines a rucksack, blanket, pillow and toy all in one. The toddler version comes with reins for parents to hold.
HuffPostUK caught up with Roupell to ask how he felt ditching all the Dragons and how business has been since.
What were you aiming to get in a deal when you went into the den?
I needed money to supply demand. The ironic thing about a business like mine is that the bigger you get, the more money you need. I'd put every penny I owned into starting the business, but when larger orders started coming in I needed more stock. I also wanted to see what the Dragons could offer me in terms of infrastructure and support.
Oddly enough I wanted to put my business to the test. Like a singer going on the X Factor, I wanted to really test myself and see if I did have a good business here. To come away with all five Dragons, who are notoriously harsh, wanting to invest in my business was a huge confidence boost.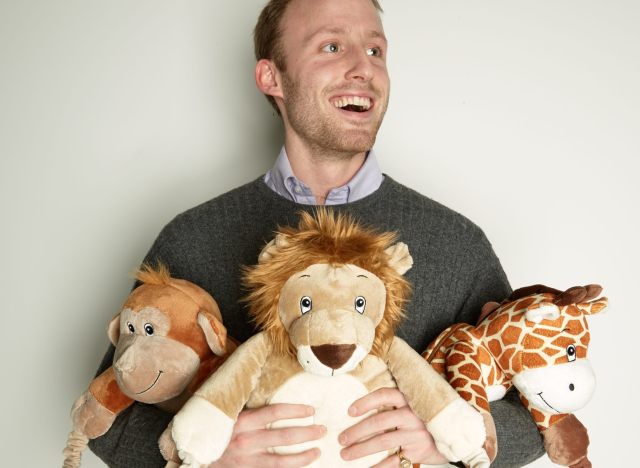 How were you feeling about going into the den?
I was pretty calm. I tried not to build it up in my mind as a big deal. I was confident that I had a good business and that I knew my business better than anyone.
I was armed with advice given to me by other people who had been on Dragons' Den. I watched several episodes from past series and when I was impressed by someone, I visited their website and gave them a call. Everyone I spoke to was very willing to help and so, having spoken to over 10 other entrepreneurs, I knew what to expect and felt a lot more calm.
What was the idea behind Bobo Buddies?
As a child I went to nursery school, and every day we'd have a nap after lunch. We'd have to take our toy, a pillow and a blanket, and so my granny sewed a blanket into my teddy and it never left my side. I was on a plane at the beginning of 2012, surrounded by children with soft toy pillows and blankets, and suddenly had a lightbulb moment.
I couldn't get off the plane quick enough and set about making prototypes with my granny and the concept evolved from there.
How did you start up Bobo Buddies?
I set about doing some market research. I went into every toy, gift and nursery shop I could find, and looked at what was out there. I couldn't believe how unappealing most soft toys looked. Their faces either downcast or scary looking. And the materials used were often synthetic looking and not soft at all.
This really excited me and I was convinced that I could create something that was softer, cuter and more functional than anything else out there.
The next and most difficult step was then taking my drawings and prototypes and turning them into a finished product. I needed a factory and so I started talking to anyone who made anything similar.
I gradually got a list of five factories who'd been recommended to me, I then got on a plane to China and spent three weeks out there. This was exhausting, lonely and incredibly frustrating at times, but ultimately I found a fantastic factory who were able to create the first set of samples… and we were off!
The final thing was finding a name, and being known as Bobo by all my family, BoBo Buddies seemed an obvious fit.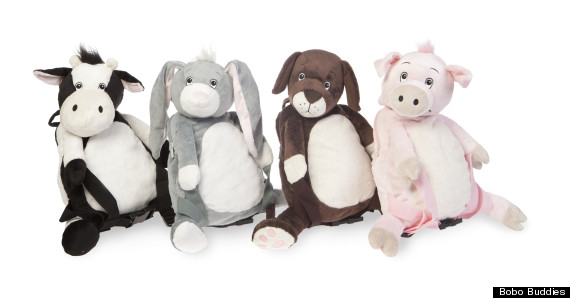 The Bobo Buddies range
Why did you decide to reject all of the Dragons' offers?
They wanted too much of my business. The Den is an incredibly surreal environment and once the offers come in you have to make a decision on the spot. When we sat down after the show and I really asked them what they were going to contribute, I wasn't convinced it was worth giving up a whole chunk of my business for.
After filming, things continued to go from strength to strength, and I got into a few major retailers. I secured a loan to supply these major retailers, without giving any equity away at all and I realised that maybe I could do it myself.
I have huge respect for the dragons, but I now want to prove that you don't need to give large amounts of your business away to make a success. It'll probably take more time and a lot more hard work now that I'm going it alone, but so far things are going really well and not once since turning them down have I regretted it.
How has business been since?
A year has passed since filming in the Den and so much has happened. In the Den I had just completed my first year, of which I traded for five months and turned over £50,000. This year we've turned over £150,000. We now supply over 250 retailers in the UK, and we have distribution in 8 countries worldwide.
It all sounds promising but it's been full on, and hopefully this is just the start.
Have any of the Dragons been in touch after the show?
No but they were very understanding when I turned the offer down. Their representatives, who I was dealing with, were very nice and have stayed in touch and wished me luck.