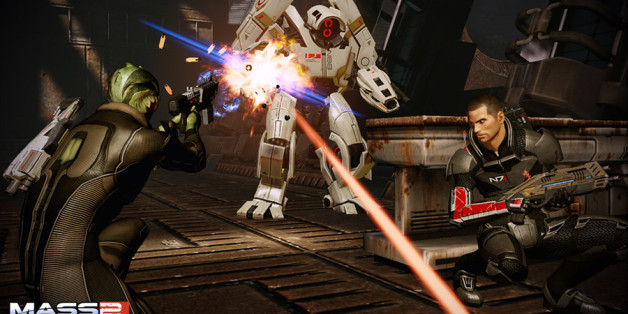 Ubisoft
There will not be a gay lead character in a major video game for years due to "fears it will impact sales", a major developer has admitted.
Gay characters are more prominent and numerous than ever in games - particularly in indie titles - while AAA hits like Mass Effect have allowed for, though not mandated, the possibility of gay relationships.
But the standard male, grizzled protagonist of traditional, big-budget video games has remained pretty much the same since 'Doom'.
And unfortunately, one leading developer has conceded, that's unlikely to change any time soon.
Ubisoft Montreal's lead writer Lucien Soulban said in an interview on the company's website that commercial concerns still inhibit developers' willingness to feature believable gay characters.
"So when are we going to see that gay protagonist in a AAA game? Not for a while, I suspect, because of fears that it'll impact sales," he said.

"So either we'll see a bait-and-switch like the original Metroid with Samus Aran where we'll find out damn near after the fact (PS: And Dumbledore was gay), or it'll come out of left field with Rockstar, Valve, Naughty Dog or Telltale, perhaps. But when it happens, I hope it's a serious take on it and not played up for jokes."
Soulban added that gay characters are more common in games than they were, but that change is happening "quietly".
"Look at the choices offered in Mass Effect II & III, or Fable III, or Dragon Age II or Skyrim, the gay characters in Borderlands 2 who mention it without much fanfare, etc," he said.

"Videogames have stopped "announcing" gay characters. They're introducing them without much fanfare in an effort to say, Yeah, it's there and pretty normal. Call it: We're here, we're queer, and we're busy working."
He also criticised "one-off joke" gay characters from other media, including the recent James Bond film 'Skyfall' in which Javier Bardem's gay villain is "total shtick to satisfy one scene".
Soulban's interview was picked up by GamesIndustry.Biz, where commenters from the games industry appeared to agree that more gay characters would be good for video games, but that it would be better for more fully-rounded characters to become the norm, regardless of sexuality.
James Berg from EA Canada wrote:
"Personally, I'd see victory in this regard when a gay protagonist isn't even mentioned, it's just how the character is created/written. Cortez in Mass Effect 3 is a great example imo - his main character feature is that he's a badass pilot, and routinely saves your character from tight spots. Also, he happens to be gay, but he's not defined by that."