An Iranian student and political activist, Maryam Shafipour, has been sentenced to seven years imprisonment by the "judge of death" for crimes against the government.
Abolghasem Salavati, a judge at the Islamic revolutionary court in Iran's capital Tehran sentenced Maryam Shafipourgave on Tuesday, after the 29-year-old was found guilty of "spreading propaganda' as well as "colluding" against the current regime.
She has since been transferred to the women's wing of Evin prison in northwestern Tehran.
In 2009, the year of the presidential elections in Iran, Shafipour campaigned for the opposition leader and candidate Mehdi Karroubi.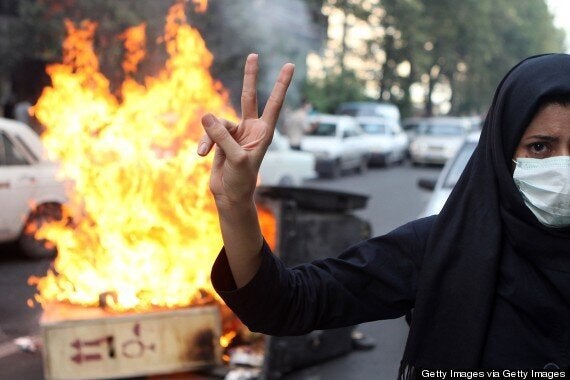 A woman protestor makes a V sign while standing in front of burning rubbish on July 9, 2009 in Tehran, Iran following 'rigged' presidental elections
She was arrested the following year, and released until July of last year, when she was put into solitary confinement on the basis that she posed a 'threat to national security'.
Since then she has been attending the revolutionary court for questioning.
Hundreds of peaceful political activists have received heavy sentences for their participation in the protests following the 'rigged' election, and Shafipour will join the many other students who are imprisoned in Tehran's Prison cells.
Since the start of Shafipour's trial she has been barred from continuing her education and expelled by Qazvin university for her engagement in political activities.
"Maryam Shafipour's conviction is a chilling reminder of how little Iran's human rights record has changed since 2009, when students were arrested in droves during post election unrest.
Related