'Death in Paradise's third series came to an end last night, with DI Humphrey Goodman making a decision about his wife.
You remember, the one who DIDN'T follow him to Paradise at the start of the series, but who had evidently had second thoughts about abandoning the klutz detective.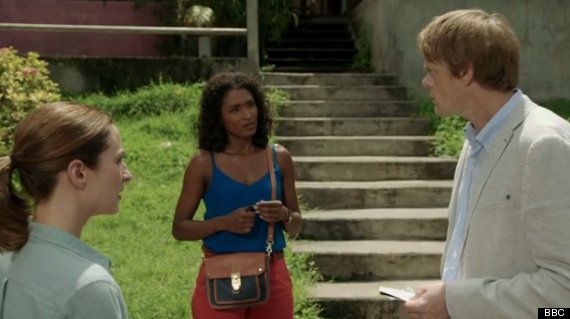 Ipsy, dipsy... Humphrey's life is thrown into turmoil by an unexpected arrival
Yes, there was a crime to solve when a well-to-do lady was found dead in her chalet at a luxury retirement home - with a door locked from the inside, natch - and some familiar faces, including our beloved Inspector Japp on the other side of the interrogatory process, but really, all we wanted to know was... will he stay or will he go?
For Humphrey, it all came down to the fact wifey hadn't proved adventurous enough - not compared with his tropical shirt-wearing, limbo-dancing, new chums. So he, most satisfyingly, kicked her into touch for the sake of many more evenings under the canopy at Camille's mother's bar, drinking rum with a kick in it.
Poignantly, he'd also worked out what the rest of us had sussed by Episode 2 - and he's meant to be the detective! - that his feelings for his exotic colleague ran a bit deeper than your usual Morse and Lewis. But he was determined to keep schtum, which means we have plenty more to keep us going in Series 4, no doubt, especially now we have forgiven Ben Miller for departing for less tropical shores, and taken Kris Marshall firmly to our hearts. Now, if someone could just buy that man a notepad...
Meanwhile, watch our little featurette below, revealing just how Harry the Lizard comes to life...