Roy Hodgson was relaxed about Jack Wilshere's "bruise" as he addressed the media. The Arsenal midfielder lasted an hour of England's friendly win over Denmark, and 49 minutes after he came off worse in a competitive challenge with Daniel Agger.
"Well it was always the plan to replace him at half-time, or just beyond," Hodgson said after the Wednesday win. "Not least of all because Arsenal have got some very important games coming up, one is a lunchtime kick-off on Saturday and then they've got the match on Tuesday in Munich.
"So we always had it in mind, especially with the players in their disposition tonight, that we maybe wouldn't keep him on the field for too long and the kick made that even more obvious as a decision."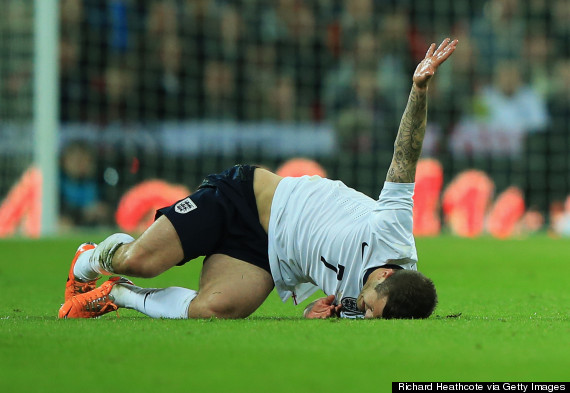 Wilshere is out for six weeks with a hairline fracture
Hodgson added: "I was a bit concerned when he went down because it was a nasty one. It was a real 50-50 ball and both he and Daniel Agger went in fairly for it. When he went down you do think from the sidelines, 'I hope that's a bruise rather than anything more serious.'
"But it was a bruise, it was a kick on the top of the foot and luckily, as you saw, he could continue. And I'm hoping when he goes back to the Arsenal tomorrow they'll get him fit for Saturday."
That kick has proven to be more than a mere bruise, and Wilshere will now be out for six weeks with a hairline fracture to the navicular bone.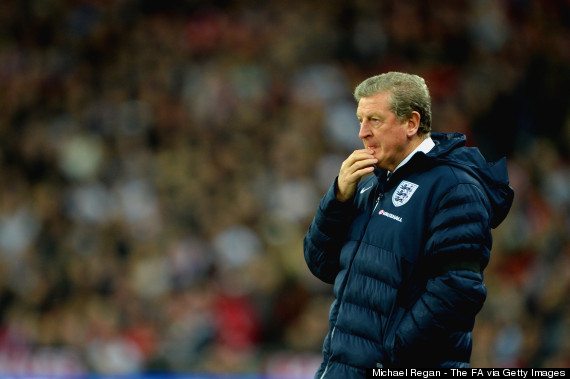 Hodgson was adamant Wilshere had only suffered a "bruise"
The challenge itself was not as nasty as some of the histrionic reactions in the press box suggested. We've seen it before. David Beckham and Gary Neville, one of football's amorous marriages, broke their metatarsals within two weeks of each other in 2002. Wayne Rooney has suffered that break three times, once during a European Championship and another before the 2006 World Cup. The ankle injury he sustained in Munich four years ago effectively ruined any impact he might have had on the South Africa World Cup.
It genuinely did look like more of an impact injury, mainly because Wilshere leapt to his feet relatively quickly after Agger's tackle and what looked like a few tears. Judging by the hesitance of England's medical team to sprint across the pitch and treat the 22-year-old, the cause for concern was not particularly high.
However, it was still bizarre Hodgson kept Wilshere on. Not only because it was a friendly and Arsenal's manic March, but because there were other players who should have started ahead of Wilshere. Such a fixture should have featured Adam Lallana, one of the more ebullient performers at Wembley, from the start in an attempt to hone his international credentials, or Alex Oxlade-Chamberlain, who is arguably more deserving of a central berth for his country than Wilshere is at the moment.
Communication has been Hodgson's undoing in his two years as England coach. Michael Carrick's brief retirement, Rio Ferdinand's exile, his abandoned return, and then his eventual international retirement were handled amateurishly. Perhaps that video of Luke Shaw receiving his call-up from Hodgson via mobile was a PR exercise.
Wilshere, too, is guilty of pride. He is beginning to symbolise that ludicrous picture of himself, lying topless, on a leather sofa emblazoned with a Union Jack, while clutching his bulldog. A year ago, England's ball retention was alarmingly reliant on his presence, yet now Lallana is maybe a better option for Hodgson's XI with less than 100 days until England's first World Cup game in Manaus.
Both manager and player will have learnt their lesson.