In the macho world of Formula 1, there are few women who stand out as a beacon of inspiration for other little race car drivers.
In fact, there's actually only one - Susie Wolff - who has been announced as the first woman in 22 years to race for Formula 1.
But even if you aren't interested in racing, as a woman and for other future generations of women, this is big news.
We'll let Susie explain: "If a little girl is interested in racing, and she switches on the TV and watches racing, she won't see any role models. So why she should believe that she can do it when she doesn't see anyone else like her doing it?"
We caught up with the Scottish driver to see what like is life for her as a female driver, whether the world of racing is changing for women and what her achievement means to her...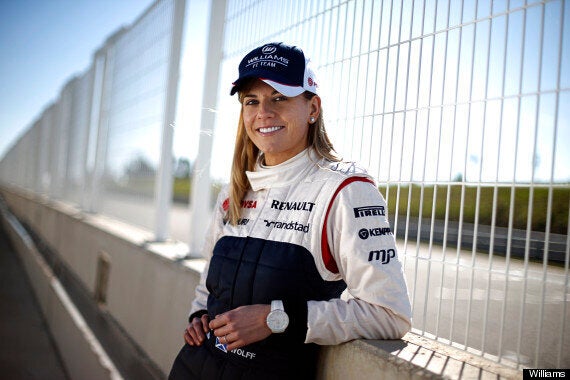 We imagine you're pleased…
I was really happy about the announcement – it was a long winter of waiting and hoping it would all come together.
What does the Formula 1 coup mean to you?
I realise it's a big milestone that a female is again taking part but more than anything, I'm proud of how we have done it as a team. When I joined Williams in 2012 there was big thing about a girl joining but I've proved myself and worked to get here. It's not a marketing ploy to get a girl on board – it has taken a lot of work and planning, with my performance being tested every step of the way.
But of course, it's about getting that chance in life. I'm going to grab that chance with both hands. I realise it's a big step for women, but for me as a racing driver it's the next natural step – I don't feel like I'm being put in a goldfish bowl.
It's quite a male-dominated sport – are things changing?
It's a man's world, and what you'd expect from Formula 1 with glamour and egos involved. What is nice to see is that women are increasingly becoming part of that world, and it's happening in an organic way.
My boss is Claire Williams. We have very good female engineers and journalists in the paddock. And there are more women coming into it there because they are good at what they do, not because there is a quota.
I see it changing slowly for the better. Younger generations of women are coming in and taking it on, and they do so knowing that women can already do a lot and can achieve a lot. For them it's clear women can be powerful – it's mainly the older generation who haven't seen women at senior roles.
Why do you think there is a lack of women drivers, or is that improving?
If you don't have lots of girls go-karting at the age of 8, they won't know how much fun it can be.
When I was at Mercedes Benz in 2008 and they gave me a car to drive, it was painted it in pink and I hated it. But one big positive was that I had lots of little girls coming over to me – dressed in pink - and their dads said 'they weren't interested in the racing, and then they saw this pink car and wanted to know about it'.
It is changing. Sheryl Sandberg's Lean In initiative is part of that change, and slowly and surely, things will be different.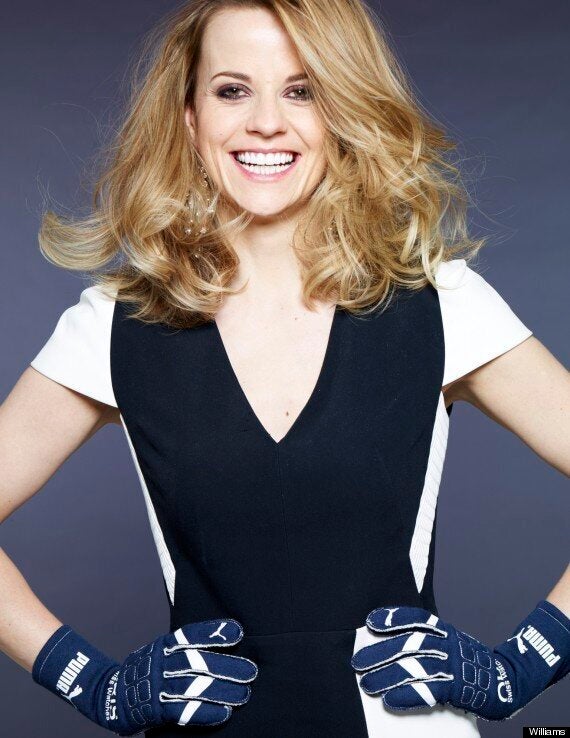 Can Formula 1 change to accommodate women?
We are never going to change the environment and I don't think we should. I put myself out there – it's my choice to go out there - so I won't say I'm terribly treated, it's sexist and so on.
There is a big story around pit girls and whether they are appropriate. I say no, don't change that because it's part of racing, part of F1. Motorsport is what it is and we should take it at what is, and enjoy it.
What are the qualities - regardless of gender - that a Formula 1 driver needs to have?
Talent is something you can't develop – you either have the ability to race at very high speeds or not. You have to be mentally strong, get the team working around you and you also have to have social competence. You are working with a lot of people, and you have to be able to motivate that team. At Williams we have 500 people back at the factory building two race cars.
You started off in motorsport - what made you try it in the first place?
My parents have a motorbike shop in Scotland, so I first rode on a motorbike at two, and I tried go-karting at eight. I loved the speed, the adrenaline and competition. So all those things coupled with that fact that my parents worked in that environment, helped. Also I was lucky. My mum never made me feel like I was doing something unusual for a girl.
Sir Stirling Moss made us really mad when he said female drivers lacked the mental capacity for the sport - what is your view on it?
I think that goes back to the generation thing. When he said that, I was at the Williams factory. Stirling Moss called me there and I said: "Before you say anything, you don't have to apologise." He said: "I meant what I said, I just didn't mean you!"
My response was: "Ah." I think in his day, when he raced he put his life on the line – if you had an accident in those days you paid the price with your life. That's part of it, and now we have really good safety measures to protect drivers.
You've referred to yourself as 'the blonde girl in the paddock' - and it seems to be that in male-dominated industries women do have to work twice as hard as men to show they are capable - have you found this to be the case?
In all honesty I am still working twice as hard to be taken seriously. In sport, you are judged in your appearance, whether you are good-looking or not. So you work to represent the team and the sponsors, and to do that you try and look feminine. Then you get people saying, criticizing you saying: "Oh look, it's the blonde girl in the paddock". Then you think I can't win whatever I do, so you focus on the performance.
Because with my helmet on, it doesn't matter what my gender is.
What do you love about racing?
Being at one in the race. When you're in there, it's just you and the car. Nothing else matters. The adrenaline you feel – going at Silverstone at 300km an hour – is unbelievable.