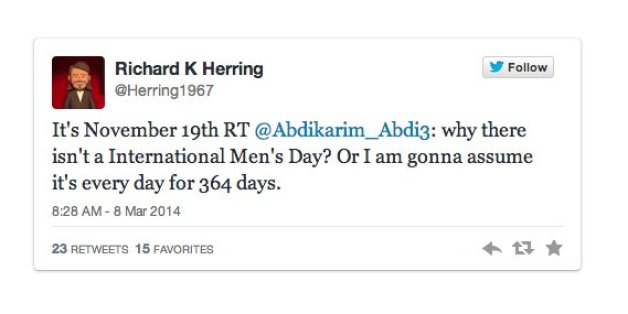 Twitter
The 8th of March is many things, to many people. For some it's the anniversary of the Safavid Empire's defeat at the battle of Gulnabad, or the 2003 death of Adam Faith. For others, including presumably Gary Numan, it's Gary Numan's birthday.
For still more people, 8 March is International Women's Day.
And on Twitter, it's "When is International Man's Day" Day.
Every year, on 8 March, thousands of men tweet -- in sarcastic, ironic and occasionally strident annoyance -- that there is no male equivalent to this annual, general celebration of respect and love towards half the human race.
Except, of course, there is. International Man's Day is a thing. And it's on 19 November.
For comedian and professionally self-reflexive snooker player Richard Herring, just knowing that fact isn't quite enough. And while last he he took to the pages of a national newspaper to point out the existence of IMD, in order to undermine the annoyance of those "who for some reason don't want to celebrate women or have equality for their mothers, sisters, daughters or female friends", this year he took it a little bit further.
He sat on Twitter, pretty much all day, and corrected as many men, and a few women, (or in his words "unknowing bellends") as possible about the 19th of November.
The result was a work of pedantic, quiet commitment - a joke, but also a Sisyphean labour - which peaked and troughed in amusement through the day. It was subtle, annoying, and glorious. And yes, Herring lost 700 followers over 12 hours. But he also gained 2,300.
Herring has a full write up on his site - and we'll leave it to him to explain how, and why, he went about it. You might also want to check out one of his podcasts or live shows.
Before you head over there, however, sit back and enjoy the work of art that is an entire human day spent correcting hundreds of people making exactly the same error.
(Thanks to Andy McHaffie for Storify-ing the exchange).