Four people are believed to have died after a civilian helicopter crashed in thick fog. The emergency services were called at 7.30pm following reports that the aircraft had come down in Gillingham, near Beccles, Norfolk. A spokeswoman for Norfolk Police said: "It's a civilian helicopter, and there were four occupants on board who are all thought to have died in the crash."
A spokeswoman for East of England Ambulance Service said: "Sadly, it is believed that four people in the helicopter are believed to have died in the crash. Ambulance resources have now been stood down from the scene. Our thoughts are with the family and friends of those who have lost their lives tonight."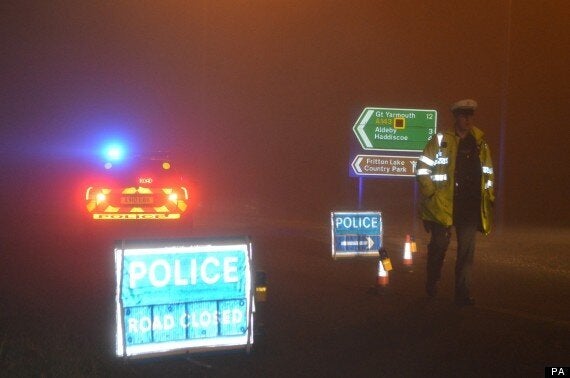 Police man a road block in Gillingham, near Beccles, Norfolk
Two ambulance officers, three ambulances, two doctors and one rapid response car attended the scene. Roland Bronk, owner of The Swan House inn and restaurant in Beccles said it was "very foggy" in the area. Mr Bronk said he heard customers talk about "a lot of police activity and ambulances".
One Twitter user, @andrew89mufc, said thick fog might have played a part in the crash, adding: "Helicopter crashed very close to my house in Gillingham tonight. I heard it flying over the house.
"I live in Worlingham on Park Drive. My garden backs onto the woodland leading to Gillingham. I heard a helicopter circling the house for about 15 mins at around 7:45. This may have been air ambulance or police searching though." He added: "Can't see my hand in front of my face. No sign of scene of crash."
Helen Roberts, a forecaster at the Met Office, confirmed that large parts of East Anglia had been hit by mist tonight. She said: "There has certainly been some fog around south Norfolk, and the Norwich area has been in fog. There has been widespread mist around East Anglia and low visibility quite widely across East Anglia. Mist means low visibility, and it has been misty quite widely throughout the evening."
Norfolk Police said the crash site had been cordoned off. It is 45 miles from the spot where four crew members died when a US military helicopter crashed on a training mission in a nature reserve in Cley-next-the-Sea, Norfolk. In January, a Pave Hawk from RAF Lakenheath was taking part in a low-flying training exercise when it came down.
All four US crew members were killed in the crash. Residents described hearing a "'heavy and very unusual'' noise from the helicopter seconds before the crash. A spokesman for the Air Accidents Investigation Branch said it will be sending a team to investigate.
Taxi driver Mark Murray, 22, from Beccles, said: "There is a large stately home nearby and you often see helicopters coming and going from there. When they have a game shoot the guests often all arrive in separate helicopters. We don't know if that is linked, but that's the only helicopter activity we see in this area."