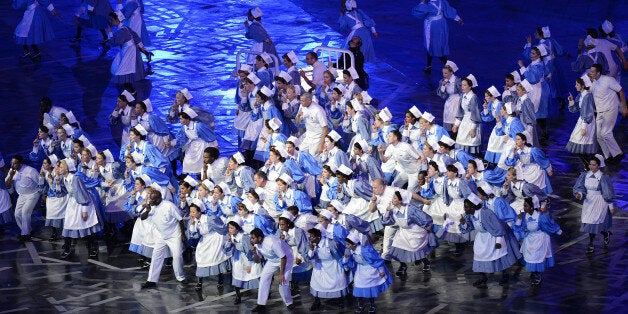 The government has been accused of "taking a scalpel" to the pay of health workers by refusing to give an across the board wage rise.
Increases of 1% will be given to some staff in the NHS, as well as to members of the armed forces, doctors and dentists, senior civil servants, prison officers and the judiciary.
But an estimated 600,000 health workers will only receive their normal incremental pay rise rather than the 1%, which had been recommended by a pay review body.
Around 400 "very senior managers" in the NHS will not receive the 1% rise. The move means that health workers face a fourth year of below-inflation increases and sparked anger from unions.
Unison accused the coalition of taking a scalpel to the pay review report and of "showing contempt" for NHS workers, adding that 70% of nurses will receive no pay rise this year.
The GMB said it will now consult its members in the NHS on what they wanted to do, warning that the blocking of a full 1% pay rise would be taken as a "personal insult."
The 1% pay increase stands in stark contrast to the 11% pay increase that could be awkwardly awarded to MPs. However the late Bob Crow, the former RMT union leader who died on Tuesday, unexpectedly defended the pay rise for MPs in one of his last interviews.
"I do believe that the MPs should be paid adequately because what you will get, in my view, is a lot of people not going into parliament because they'll say that we're going to lose out," he said.
Chief Secretary to the Treasury, Danny Alexander, said: "Public sector workers make a vital contribution to the effective delivery of public services. We need to continue with public sector pay restraint in order to put the nation's finances back on a sustainable footing.
"We are delivering on our commitment to a 1% pay rise for all except some of the most senior public sector workers."
The Government said the pay policy in the NHS will save over £200 million in 2014-15 and over £400 million in 2015-16, which it announced will be reinvested into the health service and help protect jobs.
The Treasury said: "The public sector pay bill makes up over half of departmental resource spending, therefore continued pay restraint remains central to the Government's deficit reduction strategy. Public sector pay restraint has already helped protect thousands of jobs and frontline services."
Unions reacted with fury, saying the announcement meant over 60% of NHS staff will not receive a pay rise in the coming financial year, including 70% of nurses and midwives.
National officer Christina McAnea said: "The Government has shown complete contempt for the NHS, contempt for staff and contempt for patients and will pay the price at the ballot box.
"Even a straight 1% increase would be nowhere near enough to meet the massive cost of living increases that NHS staff have had to cope with since 2010. Staff are on average, 10% worse off than when the coalition came to power.
"Increments are designed to reflect the growing skills and experience of nurses and other healthcare workers and are closely linked to competency. They are not a substitute for the annual pay rise that is needed to meet the increasing cost of living.
"If the Government is set on imposing this change, it clearly doesn't understand how increments work. As it stands, they save the NHS money but if this divisive plan goes ahead Unison will be arguing strongly that staff should be paid the full rate for the job from day one.
"I am appalled that this coalition government can openly boast about the economic recovery and claim that we are all feeling the benefits and then treat health workers so shoddily."
Rehana Azam, national officer of the GMB said: "GMB members across the country will take the blocking of a full 1% pay rise as a personal insult.
"GMB members will not stand aside whilst the Government makes such direct attacks on their pay and conditions. GMB will immediately begin making arrangements to consult members who will be asked to vote in a consultative ballot to decide the next steps in this dispute.
"How will blocking this meagre rise help living standards to recover to pre-recession levels?"
Popular in the Community