Two people have been killed and more than twenty injured after a car ploughed into crowds at the South By Southwest music festival in Austin, Texas.
According to police, they were in pursuit of the vehicle when it crashed through barricades at around 12.30am local time in a busy area crowded with pedestrians.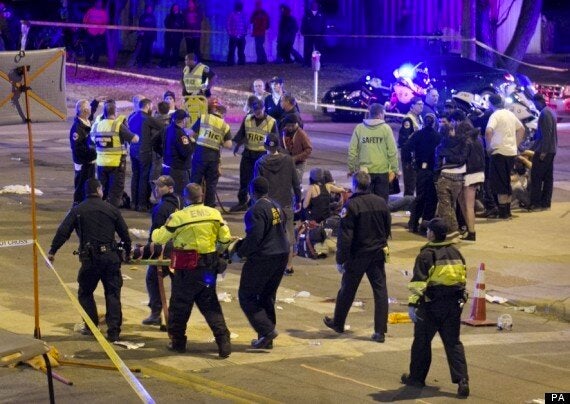 Police attend the scene after a car collided with crowds at SXSW
Officers confirmed two people had died and 10 had sustained injuries that needed hospital treatment, five of which were severe. Approximately 13 others were hurt.
According to eyewitnesses who spoke to CNN, the car sped into the crowd, throwing some victims into the air.
The driver of the car has been arrested, police said.
At a press conference held in front of the crash scene, Austin police chief Art Acevedo told reporters police had earlier attempted to stop a man in a grey sedan at a petrol station on suspicion of drink-driving.
The man then reportedly fled, turning the wrong way down the one-way 9th street.
He then ploughed through a barricade and struck multiple pedestrians, a taxi and a moped before crashing into a van, police said.
The man and a woman who died had been on the moped at the time.
The driver of the car then tried to run away but was caught after being brought down with a taser and arrested by police.
The South By Southwest festival, known as SXSW, attracts hundreds of thousands of visitors to Austin, Texas every year.