Anna Watkins and Katherine Grainger, as they charged towards a gold medal win in the double sculls at the 2012 Olympics, held the nation captivated.
It was the second momentous win for Britain in rowing - previously Heather Stanning and Helen Glover won the country's first gold in the coxless pairs.
Suffice to say, women's rowing was having a moment.
But Anna - who has won a medal at every major sporting event since 2007 - has done more for women's sport than her Olympic win. As patron of the Women's Sports Trust, she is helping to change sport for women - in terms of the resource, support and sponsorship they get, which is so woefully paltry in comparison to men's sport.
This is about legacy, not the one-off wins. HuffPost UK Lifestyle spoke to the Olympian to find out how things are changing...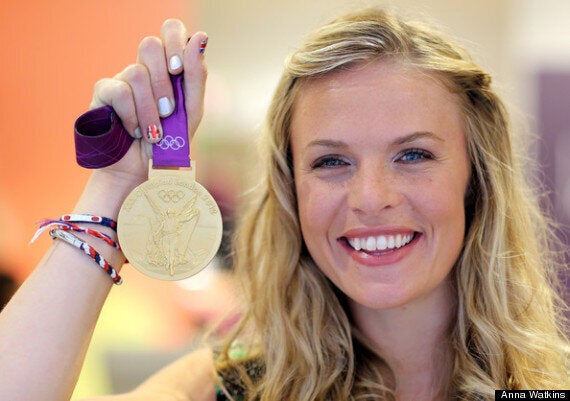 One thing was obvious – there isn't any specific funding source for women's sport – there's a grant-giving body for women in sport at all levels. And of course women's sport isn't just the Olympians - that kind of support should permeate all levels of society and be able to help someone struggling and hoping to get sponsorship.
Has much changed for women since the Olympics?
I can speak for rowing that has changed in a really positive story, Rowing has had - from January 2012 to January 2013 - a 17% increase of women members. The flipside is it is a small sport to start with, so an extra 1000 people interested in the sport won't change the country but it shows a real effect there. That is just one aspect of what the Olympics did.
Before the Games, the male to female ratio in rowing was four guys to every girl, after Olympics it is now four men to every three women.
Does media need to do more for women in sport?
I think there's an obvious effort in media to feature women in sport more. The BBC have done more, and it is definitely on the agenda.
Women haven't had the best winter or the best stories - whether that's Tour de France or The Ashes. That isn't helping. The rowing success indicates that when it does happen – when women do well at sport - both men and women have enjoyed watching it enormously. The impact it does then have is undeniable.
But the way I come at this is that we don't want to make it a worthy cause – women must be helped out. We need more than the occasional glittering success. What are your thoughts around women being allowed in Tour de France?
I thoroughly support the campaign for women in the Tour de France - there is no reason why not. It's inevitable it will change but not without pressure. Like the Oxbridge boat race and women being allowed to race – for a while it seemed like it could never change because it was so historical.
What is it about being an Olympian that normal women can apply to their daily lives?
I think that Olympians male and female all have something very obviously in common: they love competition. In everyday life women often back away from competition but while it can be scary it is always amazing fun. I would say to women: enjoy competing against men and women.
You've spoken about how your female insecurities held you back in Beijing – is that something women tend to do?
Yeah – absolutely – in Beijing it was a similar situation with an archetypal female mindset. We read a list of requirements for a job and pick out the one thing we can't do and beat ourselves up about it while men go: "Wow I can do most of that."
I knew what our weaknesses were, but I thought because we had them we weren't perfect and you have to be perfect to win. We wouldn't have had to be perfect to win, just faster."
How important is happiness and life balance to you?
I am on the go all the time, and I was lucky to grow up in a happy family. We weren't hugely successful in terms of profession but very happy. I've always been aware that happiness is very important so I've always thought that my internal happiness is not a function of my rowing. Lunacy lies that way if you expect your happiness to be fulfilled by a piece of metal.
What would you like to see happening for women in sport?
Just more taken for granted that women are doing interesting things. Nicola Adams, Jessica Ennis – more common and less exceptional. So that girls growing up don't think it's a freaky thing to do. Just as natural for a woman as it is for a man to be interested in sport.