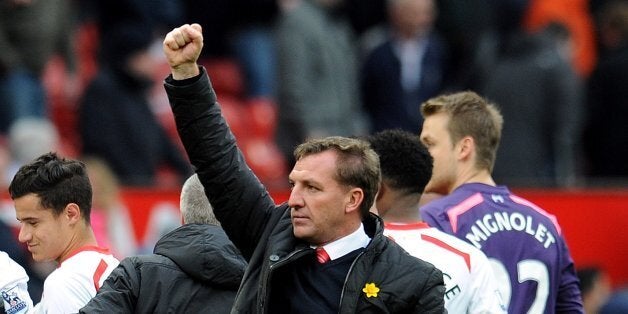 Liverpool have beaten Tottenham 5-0, Everton 4-0, Arsenal 4-1 and done the double over United. Their defeats at Manchester City and Chelsea were both unfortunate and came during controlled and impressive displays.
"I'm just focussing on our own team," Rodgers initially dedpanned when asked the question for the umpteenth time. "No, no chance," he smiled. "Write that one.
"I try not to expect so much and let the players do the talking. We try to remain dignified and concentrate on making the players better. We're up there on merit, so of course we have an opportunity."
Four points off the summit and with a game in hand over Chelsea, Liverpool will be able to test their credentials against City and José Mourinho's outfit again when both sides visit Anfield in April. Their favourable run-in is further cause for optimism as they attempt to become the first club to make such a drastic leap from pretenders to champions since Leeds United in the early 90s.
Chris Smalling would have started for United had he not injured his hamstring, but Rodgers was prepared for whoever Moyes played at centre-back.
"I thought we were outstanding today, real dominance in our game. From the first whistle, our intent, the attack, the pressing and the work as a team was outstanding.
"I wanted to get the superiority on the inside," Rodgers explained. "I like to flood numbers in the midfield to dominate the game. United's centre halves tend to drop off, so I thought we could exploit that. We felt we could play through and open the game up. In this game, because of the nature of the pitch and Manchester United being at home, we had space to attack."
That Rodgers's side received three penalties and converted two of them did them a disservice. "I thought we could have had more goals," Rodgers admitted. "I thought we were really aggressive in our game and we might have finished them off even more so. The aggression in our game was there to see."
The resurgent Jordan Henderson and Joe Allen were "exceptional", Rodgers boasted, but he reserved his most loquacious praise for captain Steven Gerrard, who scored two penalties and again impressed in a deeper role.
"I think he's peerless in many ways. Obviously, disappointed for the one he missed but he's taken to that role really well and the responsibility. You saw some of his range of pass today, and he's still got the legs to cover the ground as well. I don't think there's many who can do what he does.
"He's spent most of his life in the attacking half, he's now come into the other half of the field to orchestrate the game and conduct the game. He has shown wonderful tactical intelligence to do that and is a great inspiration for young players."
Rodgers didn't think Rafael da Silva should have received a second yellow card for his handball which gifted Liverpool their first spotkick. Daniel Sturridge's elaborate tumble under a sliding tackle from Nemanja Vidić compelled Mark Clattenburg to point to the spot for a third time, although Rodgers thought that decision was "harsh".
His diplomacy must make United fans recoil. He could afford to take pity on a team five places and 14 points below them. "I have empathy in terms of the pressures," he said of David Moyes's struggles in Manchester. "I understand the pressures at a worldwide institution. Man United is a fantastic club."
So is talk of a first Liverpool title in 24 years banned?
"I haven't banned it. There are just better things to talk about." Liverpool fans will have plenty to talk about following this win.