Reigning British Touring Car champion Andrew Jordan was left frustrated after the final pre-season test in spite of finishing the day top of the timing sheets.
The Pirtek Racing driver posted the fastest lap time of the day at Donington Park, just 0.001s ahead of Honda Yuasa Racing's Gordon Shedden and followed by returning double-champion Alain Menu. Teams have been testing at other circuits but Tuesday's session at the Derbyshire circuit was the only official day.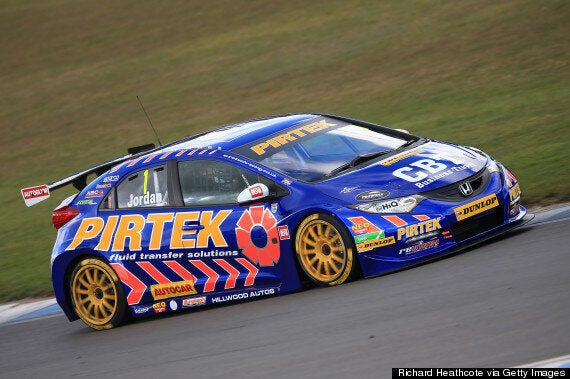 Andrew Jordan on track during a dry spell at Donington
Although pleased to be heading the field at the end of the day, Jordan said it hadn't been a "proper day" because of the rain disruptions.
"It was a little bit frustrating," Jordan said. "We had quite a lot to try out that we haven't been able to do. It means that we've still got some unanswered questions going to Brands Hatch, but we know we've just got to get on with it."
Shedden, the 2013 champion, who took the Yuasa Honda Racing team's new Civic Tourer onto the Donington track for the first time, believes this year will be a tough one in which to win his second title with a huge entry field that includes seven previous BTCC champions.
"You need things to go your way, and with 31 cars on the grid you never know what's going to happen," the Scot said.
"I know what an amazing feeling it was to win it in 2012 – I know it's going to be harder than ever. Seven champions and a whole host of other race-winners means this is going to be one hell of a season."
Frenchman Menu was happy with the day's work and pleased to back in the BTCC.
"It's good to be back," he said. "Everyone I've spoken to has been very excited about this year, and the number of fans here for the test was really impressive also. It's going to be a good season."