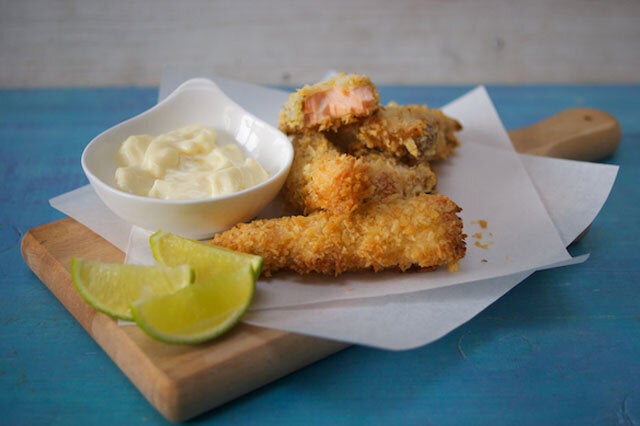 Salmon goujons
by
Katie Bryson
These generous fingers of chunky pink salmon in a crunchy lime infused coating make a refreshing change from the stingy shop bought sort.
It's always worth the little bit of extra effort involved with making your own fish fingers. It's not a time thing - as they only take 10 minutes to put together - it's more the fact that you'll get in a mess! But you'll be rewarded with a super tasty tea time treat that both kids and adults will love.
Prep time: 10 minutes
Cook time:20 minutes
Makes:
8
2 boneless salmon fillets
1. Pre-heat oven to 220C/200C fan/gas 7 and line a baking sheet with greaseproof paper.
2. Prepare the salmon fillets by peeling off the skin and then cutting each fillet into four equally sized fingers.
3. Pour the breadcrumbs into a shallow dish and mix with the zest of one of the limes.
4. Spoon the mayo into another shallow dish and mix with the zest of the remaining lime.
5. Dip each salmon finger into the lime mayo, rolling it around until well coated. Then roll it in the dish of breadcrumbs.
6. Once evenly coated place on the prepared baking sheet, and repeat with the rest of the salmon fingers.
7. Bake in the oven for 15-20 mins until golden and serve with salad or steamed greens and baby new potatoes.
Cook's tip: For a further hit of lime, mix the zest of a lime with a big dollop of mayo and serve in a dish on the side.
More fish recipes on Parentdish: