Twenty five years ago today, Madonna released her controversial album 'Like A Prayer'. Praised by critics and fans alike, the album became famous for two reasons. Firstly, it was the first time we'd really seen Madonna open up through her music. 'Till Death Do Us Part' talked about her difficult marriage to actor Sean Penn, 'Oh Father', dealt with her difficult life growing up in the suburbs of Detroit, Michigan, and the heartbreaking 'Promise To Try' discussed the death of her mother when she was just five years old.
It also gained notoriety for the title track's music video, which got the whole world talking. While previous videos for the likes of 'Papa Don't Preach' and 'Open Your Heart' had caused a stir for their controversial themes - not to mention Madonna's barely-there outfits - it was the video for 'Like A Prayer' that catapulted Madonna to the ranks of music video heavyweight, and proved to the world she really meant business.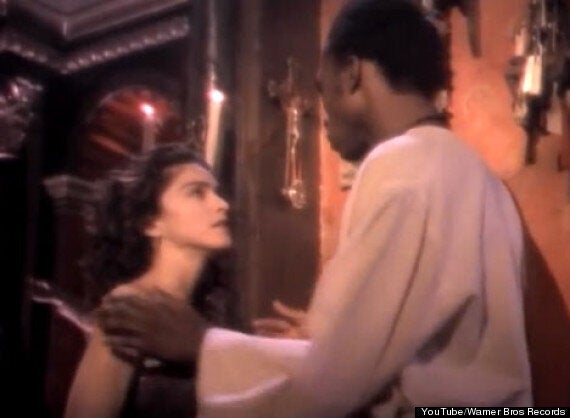 Madonna in the 'Like A Prayer' video
Featuring burning crucifixes, a sex scene on an altar, a murder and a rare glimpse of Madonna's hair in its natural state - the 'Like A Prayer' video shocked the world and changed the way we viewed music videos. Still listed as one of the most shocking and outrageous clips of all time, 'Like A Prayer' is undoubtedly one of the most important jewels in Madonna's crown, and a big reason why she's still viewed by so many as an icon decades into her career.
But 'Like A Prayer' isn't the only music video that's caused a stir, plenty of other artists have made waves with their own shocking videos...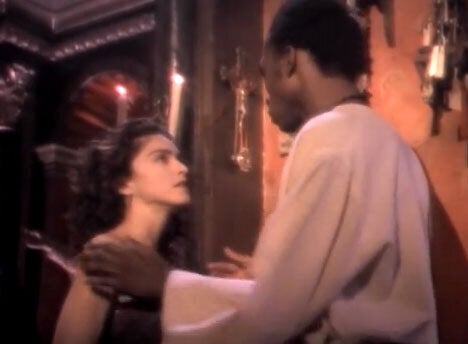 11 Most Controversial Music Videos
Related