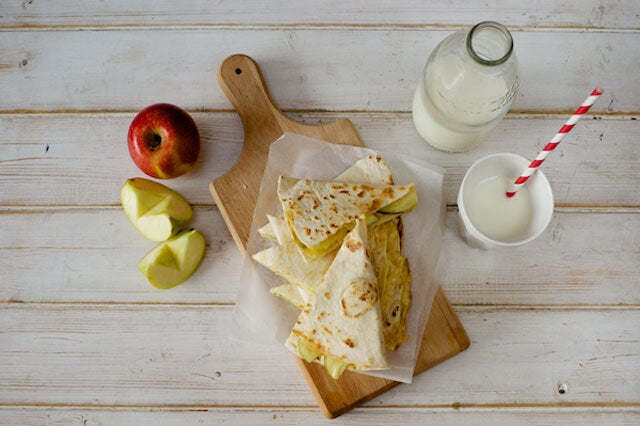 Quick quesadillas with cheese and apple
by
Katie Bryson
Cheese and apple is a staple after school snack, so this version gives it a tasty new spin without a great deal of extra effort.
Prep time:Five minutes
Cook time:Five minutes
Makes:
4
2 dessert apples - like Braeburn or Pink Lady
1. Cut the apples in half, and half again. Take out the core and then very finely slice them all up. Grate the cheese.
2. Place a soft tortilla in the base of a large heavy-bottomed frying pan then scatter a thin layer of cheese over half of the circle. Place a layer of sliced apple, then scatter with another thin layer of grated cheese.
3. Turn on the heat, fold the tortilla in half and press down. Allow to cook for a minute and then flip over to cook the other side. Transfer for a large wooden board and then repeat with the remaining tortillas, cheese and apple.
4. Cut into triangles and serve as a snack, or with salad as a light meal.
Cook's tip: You can use any number of fillings in these quick quesadillas - try spreading a layer of tomato paste and scattering with grated mozzarella for pizza flavour.