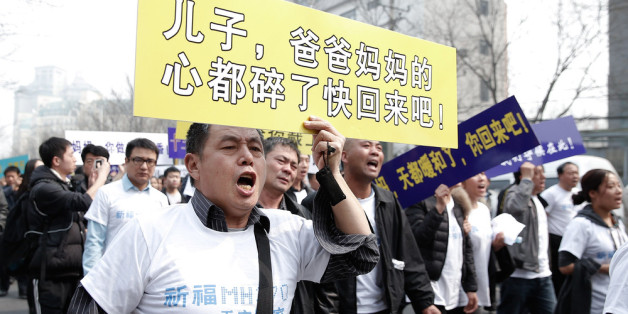 Lintao Zhang via Getty Images
The grief-stricken relatives of Chinese passengers on board the doomed flight MH370 have clashed with police at Malaysia's embassy in Beijing.
Hundreds of people gathered outside the embassy to protest what they called two weeks of "lies and misleading information" from the Malaysian authorities after the passenger jet vanished without a trace.
The group of devastated family members attempted to storm the embassy building, but were repelled by police.
Others stood outside the gates to decry what they see as the Malaysian government's mishandling of the tragedy.
They reportedly shouted slogans including "Are you coming out?" "Have you no shame?" and "Murderers!"
Most tragically, they are said to have demanded the authorities "return our relatives".
Security personnel are said to have blocked the family members from reaching reporters.
Malaysian Airlines issued an official statement Monday confirming that "beyond any reasonable doubt" flight MH370 has been lost and that none of the 239 people on board have survived.
Heartbreaking scenes were shown from the hotel room where the relatives of the missing passengers were held in Beijing.
Stretchers and police rushed into the building as family members reacted to the news. The Chinese Family Committee has issued a statement, branding the airline as "executioners."
"If the 154 passengers did lose their lives, Malaysia Airlines, the Malaysian government and military are the real executioners who killed them. We the families of those on board submit our strongest protest against them," said the statement.
Malaysia Airlines' chief executive has said he will decide later Tuesday whether to resign.
Ahmad Jauhari Yahya was asked at a news conference at Kuala Lumpur airport, whether he would stand down over the airline's handling of the disappearance of MH370. But he said it was a "personal decision" for later.
"My heart breaks to think of the unimaginable pain suffered by all the families," Mr Ahmad Jauhari said.
"There are no words which can ease that pain. Everyone in the Malaysia Airlines family is praying for the 239 souls on MH370 and for their loved ones on this dark day. We extend our prayers and sincere condolences."
He also defended the airline's decision to send text messages to relatives of passengers informing them their loved ones had died.
"Our sole and only motivation last night was to ensure that in the incredibly short amount of time available to us, the families heard the tragic news before the world did," Mr Ahmad Jauhari said.
"Wherever humanly possible, we did so in person with the families or by telephone, using SMS only as an additional means of ensuring fully that the nearly 1,000 family members heard the news from us and not from the media."
The Australian Maritime Safety Authority (AMSA) earlier called off the hunt for wreckage from MH370 for the day due to gale force winds, rain and big waves.