Gwyneth Paltrow and Chris Martin revealed on Tuesday night through a post on the actress's lifestyle website Goop that they were to split up after 10 years of marriage, and their joint statement received so many hits it crashed the site.
Goop was set up by Gwyneth as a way to share healthy recipes, travel ideas and interior design suggestions, but she's now shared a bit more than that in a journal called 'Conscious Uncoupling' which revealed that she was to separate from her husband, Coldplay frontman Chris Martin.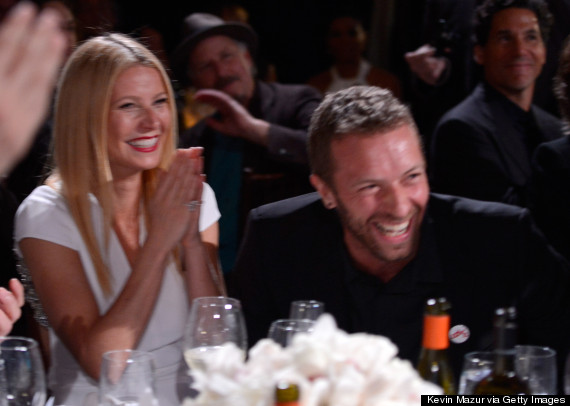 Chris and Gwyneth in happier times
As news quickly spread that they were separating, users flocked to the website to read the couple's joint statement only to be greeted with an error message, thought to be due to an influx of people visiting the site.
The online reaction to the couple's split has been massive - particularly on Twitter - with social media users weighing in with their own opinions:
Chris Martin and Gwyneth Paltrow have split.

I bet Chris will be playing miserable songs all night.

Once Coldplay's tour starts.

— Ian Hyland (@HylandIan) March 25, 2014
Gwyneth and Chris show us the best way to make Apple crumble.

— Jo Thornely (@jothornely) March 25, 2014
Sorry to hear about Chris and Gwyneth breaking up. :(

*Books flight to England to console Chris*

— LindseyJay (@LindseyJay) March 26, 2014
Meanwhile, other Twitter users noted the use of the unusual expression 'Conscious Uncoupling' to announce the split, and the couple's avoidance of the word 'divorce' in their statement:
I do feel sad for them, but the term "conscious uncoupling"... Really, guys? You thought that was a good idea?

— Dotty (@DottyCuckoo) March 25, 2014
@samwdowning It's a conscious uncoupling, not a divorce, Samuel. An expensive title to tweet but clarity worth its 20 characters.

— Kieran Campbell (@KieranCampbell) March 26, 2014
Conscious Uncoupling would be great band name.

— Hannah Allan (@ohitshannah) March 25, 2014
Conscious Un-coupling #iconic

— ANDY (@andr3wthomas) March 25, 2014
In their statement, Chris and Gwyneth revealed they have been working on their marriage for the past year, but ultimately decided it would be better to split up.
They wrote: "It is with hearts full of sadness that we have decided to separate. We have been working hard for well over a year, some of it together, some of it separated, to see what might have been possible between us, and we have come to the conclusion that while we love each other very much we will remain separate."
Together they have two children, 9-year-old Apple and 7-year-old Moses.
Gwyneth told the UK edition of Glamour magazine last year: "It's hard being married. You go through great times, you go through terrible times. We're the same as any couple."
LIKE US ON FACEBOOK | FOLLOW US ON TWITTER