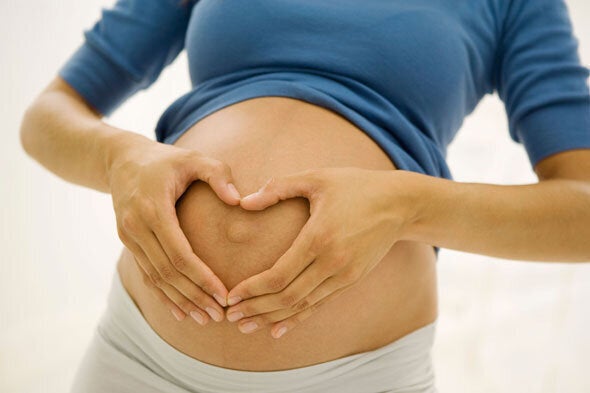 The first time you hear your unborn baby's heartbeat is magical. Now a new smartphone app allows expectant mums to listen to and monitor their baby's every moment in the womb.
The Bellabeat Connected System lets mums-to-be listen to and record their baby's heartbeat, track the number of times the baby kicks and keep tabs on the weight of their unborn child.
It also has the capability to track the mood of the soon-to-be mother by recording her feelings throughout pregnancy.
If the app detects a pattern emerging, such as symptoms pointing to the early signs of depression, the user is even encouraged to speak to a medical professional.
Bellabeat co-founder Urska Srsen said: "Listening to your unborn baby's heartbeat was the original feature and all the other features were added around this.
"There are tons of pregnancy websites and smartphone apps on the market pushing information to consumers, but women don't have the time to interpret all this information in terms of their lifestyle.
"By analysing important data coming from our devices, we can personalise all the other content.
"The mood tracker feature is meant to help pregnant women recognise early symptoms of depression.
"Users will be able to track changes in their moods and feelings throughout pregnancy by recording notes within the app.
"Additionally, once a month, users will be asked to answer two questions about their feelings and moods overall. If a pattern suggesting early signs of depression emerges, the app encourages users to seek help from their healthcare providers."
Ms Srsen added: "We will be adding new tracking devices that will work with the app to enable mums-to-be to track blood pressure, weight gain and blood sugar for the first phase.
"We aim to have a complete solution to remotely track pregnancies that will highly reduce healthcare costs and improve overall pregnancy experience."
The Bellabeat App is free to download on iOS and a beta version is available on the Android store with a full version expected in the summer.