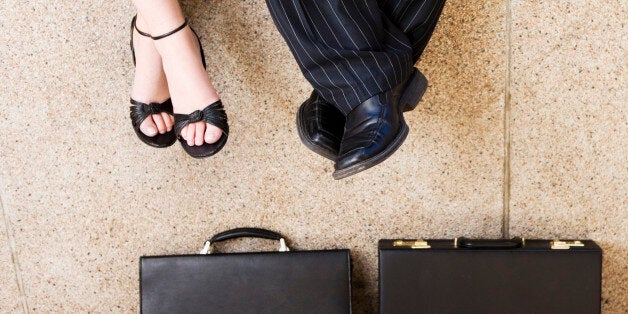 Whatever generation you grow up in, your heart will belong to a certain televised work romance.
Whether it was Moonlighting, Cheers, ER, The West Wing, or Glee, it's difficult to imagine life without at least one pair of office-crossed lovers flitting through your mind every time you head to the photocopier.
Each pair of earnest, workplace-sharing lovers gave us hope for the awkward range of souls that form the backbone of working life. But sadly, as in life, not all matches worked out.
Eighties comedy Cheers set the scene for the staple will-they-won't-they work romance, as rakish Sam and prim Diane verbally sparred over his behaviour for five series.
Then along came George Clooney (sorry, Dr Ross) and his passionate love for nurse Carol. Where San's superficiality was stamped through his core, '90s viewers knew that behind Ross's laissez-faire, flirtatious demeanour, lay a love larger than his growing fan base.
As gurneys came and went, their raw passion kept us hooked for five series. As well as George's hair. And Carol's actually.
The brooding emotional energy of ER whet our appetites for more, and so came the cruel but brilliant emotional humour of The Office.
Gone were the swashbucklers and flawed womanisers, and in their place arrived an altogether more humble and charming everyman, in the form of Martin Freeman. Sorry, we mean Tim Canterbury.
Suddenly, it became very obvious to all women that they should be dating the funny, sweet guy, rather than wasting their time with ego-driven show ponies.
The office might only have had 14 episodes, but six million tuned in to watch the finale of Tim kissing Dawn at The Office Christmas party.
Even America couldn't resist the lure of such understated, human love and made their own version of Gervais' mockumentary. After nine long seasons, Jim and Pam were eventually married with two children. While still working side by side at the paper factory, of course.
What have you done to make work wonderful? Share your stories on Facebook or Twitter using the hashtag #makeworkwonderful
Then there were the doomed lovers in Glee. In what might be one of the least whimsical work romance twists, teacher 'Mr Schue' was left at the altar by school guidance counsellor Emma Pillsbury. Luckily, the Glee club director's highly-strung mysophobic girlfriend had a change of heart and they were married at the end of series 4.
And in the final instalment of this tour of televised love, be sure not to miss the obstacle-strewn path of Leslie Knope and and co-worker Ben Wyatt, the current romantic leads of US hit comedy Parks and Recreation.
Knope is a fiercely driven, insecure, marvellously sincere local government official. And Wyatt. Well, he loves accountancy and Star Trek.
It's a sweet and beautiful romance that fans of office amour need to tune into immediately.
Enjoy this round-up of our 10 ten favourite televised loves, which includes everything we've discussed and more!