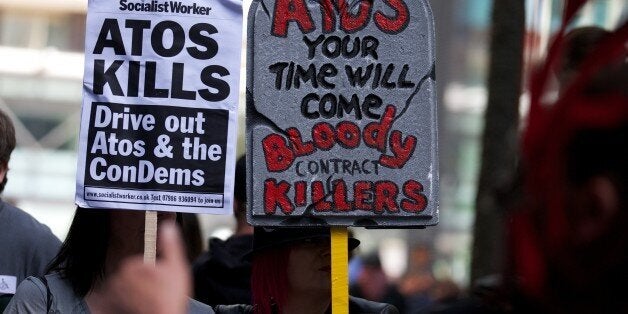 Atos Healthcare is quitting its contract to carry out "fit-for-work" tests on disability benefit claimants before it is due to end next year, the government has confirmed.
Ministers made clear that Atos will not receive any compensation from the taxpayer and had made a "substantial" financial settlement to the Department for Work and Pensions in order to terminate its £500 million contract early. The government stressed that Atos was "removed' from the contract, rather than the firm choosing to "walk away".
The company regularly came under fire over the assessments - which are used to gauge eligibility for employment and support allowance and incapacity benefit - amid claims people are being wrongly recommended for work, or put through stressful medical interviews.
Teresa Pearce, Labour member of the Commons work and pensions committee, told HuffPostUK: "The Atos contract has been a total failure for claimants and for the taxpayer, but there will be little to celebrate in their exit unless lessons are learnt.
"Any future contracts must be properly drawn up so the company undertaking the testing gets it right more often than not. With the Atos contract they were paid for each assessment with no requirement for the assessment to be correct, that resulted in huge numbers of the decisions been overturned at appeal.
"Those appeals were a drain on the public purse but even worse put vulnerable people through an unnecessary ordeal."
Richard Hawkes, chief executive of the disability charity Scope, said: "I doubt there's a single disabled person who'll be sorry to hear that Atos will no longer be running the fit-for-work tests.
"We welcome the minister's decision. He now has a real opportunity for Government to review their approach to Work Capability Assessments and ensure that when they appoint a new provider there is a move away from a fundamentally flawed system.
"The question we have to ask is how many disabled people have jobs? Nine in 10 disabled people work or have worked, yet only about 50% of disabled people have a job right now.
"We need a back-to-work system that works for disabled people. Disabled people are pushing hard to find jobs, but they face massive challenges when it comes to finding and staying in work - too often they don't get the right kind of support and workplaces are still not flexible enough.
"The test should be more than an exercise in getting people off of benefits. It should make sure disabled people get the specialist, tailored and flexible support they need to find and keep a job. We should be talking about getting a million more disabled people into work."
PCS general secretary Mark Serwotka said: "These privatised work assessments are fundamentally flawed and designed to harass vulnerable people and take their benefits away, rather than provide support and guidance.
"Doctors, MPs and disabled people all believe the tests should be scrapped so, instead of replacing the failed Atos with another profit-hungry provider, the government should bring the work in-house and invest in it properly."
News of Atos' early exit has provoked strong reaction online, summed up by one user writing "Good riddance" on Twitter.
Disability minister Mike Penning confirmed Atos' early exit to MPs in a written statement and that the firm would still administer tests for personal independence payments, the DWP's replacement for the disability living allowance.
"The previous government appointed Atos as the sole provider for carrying out work capability assessments and since then we have carried out several independent reviews and made significant improvements to the assessment.
"Today we are announcing that we are seeking a new provider to replace Atos, with the view to increasing the number of assessments and reducing waiting times.
"I am pleased to confirm that Atos will not receive a single penny of compensation from the taxpayer for the early termination of their contract; quite the contrary, Atos has made a substantial financial settlement to the department."
"The plan is for the new contract to be awarded later this year, with a view to the new provider taking responsibility for delivery of Work Capability Assessments by 2015," he added.
Atos confirmed that its officials have been talking for "several months" with the government about its contract, which was due to run to August 2015.
The French-run benefits-testing firm recorded around 163 incidents a month last year of members of the public assaulting or abusing staff, both in person and online. Examples on Facebook were said to include: "murdering scum ... won't be smiling when we come to hang you bastards".
Last summer it was announced that the company, which was originally appointed by the last Labour government in 2008, had been instructed to implement a "quality improvement plan" following an "unacceptable" deterioration in the quality of its written reports. At the same time the DWP said it would be seeking to bring in additional providers in order to increase capacity and cut waiting times.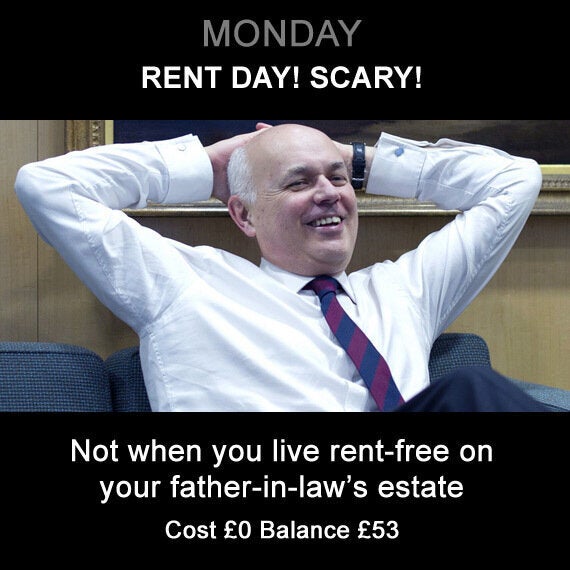 Iain Duncan Smith's £53 Week