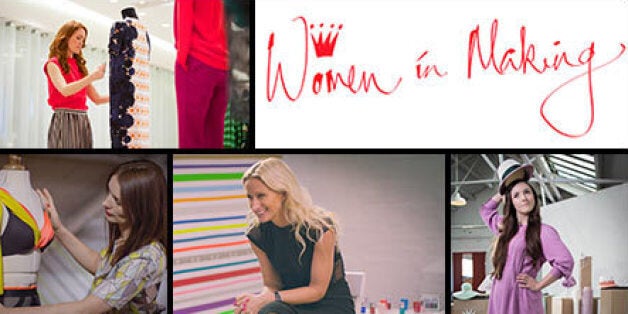 This year's Women In Making mentors come together to form our 2014 Makers Collective. Their varied stories and achievements form an exciting landscape of what is possible for the creative business women of tomorrow.
Womenswear designer Roksanda Ilincic joins the Makers Collective for a second year running. Roksanda's professional achievements make for an impressive read, after starting her own label in 2003, she was later inspired by the birth of her daughter and extended her line to childrenswear launching "Blossom" in 2012.
Her creativity and entrepreneurship have been responsible for numerous award nominations such as the Grazia's Business Woman of the Year award, and in 2013 she won the best Red Carpet Designer at the ELLE Style Awards. Not stopping at her own collection, in the run up to the London 2012 Olympics, Roksanda joined a number of designers creating a t-shirt for the Evening Standard's 'Dispossessed Fund' in order to raise funds for London's children and families living in poverty.
New to this year's Women In Making panel are mentors Sophia Webster, Georgina Coulter and Thea Green MBE.
After studying for a BA degree at Cordwainers College, Sophia Webster went on to gain an MA in a specialised footwear course from the Royal College of Art. By the time it came to graduating she had already built a reputation for developing unique and feminine designs and was offered the role of design assistant to British footwear designer Nicholas Kirkwood in 2010.
Sophia revealed her debut collection in SS13 and has established herself as a celebrity favourite. We're in love with her shoe creations but don't just take our word for it, the industry recognised there is even more promise to come from Sophia when she was given (for the third consecutive season) the New Gen Award by the British Fashion Council for her SS14 collection.
Georgina Coulter, our third judge, is currently the Buying Manager at luxury British department store Fenwick of Bond Street. Starting out with a degree in Psychology and Cognitive Computing Science, Georgina switched career paths shortly after finishing university. She has risen through the ranks since first joining the graduate scheme at Fenwick by gaining cross department experience as well as working at the multiple award-winning website My-Wardrobe before returning to Fenwick in 2013.
Our final member of the Makers Collective barely needs an introduction after being awarded an MBE for her services to the beauty industry. This year we excitedly welcomed Thea Green, founder of the UK's leading fashion forward nail brand, nails inc onto the panel.
In 1999, Thea was just twenty-four and working as a Fashion Editor in London. She observed her target consumers as time-poor women and saw a gap in the market for high quality manicures with more fashion forward range of products. In order to make the business a reality, she left her job in magazine journalism and began developing the nails inc product range and salons. Currently employing over 400 people in the UK and Ireland, Thea champions the importance of giving opportunities to young people and has developed numerous a partnerships which help young people acquire the skills and experiences they need to enter the workplace.
Also joining the panel this year is 2013's Women In Making winner Lizzie McQuade. Lizzie is a milliner who stood out to the judges for her quirky and feminine designs. She says that this year she's on the lookout for candidates who are not only skilled but who aren't afraid to take a risk in order to take their business to the next level.
Alongside a £10,000 bursary to kick- start a creative business venture, one lucky winner will have the unique opportunity to be mentored and learn from these five inspiring business women.
To enter the Women In Making competition register here for the chance to win a £10,000 bursary and a year's mentoring from our Makers Collective.