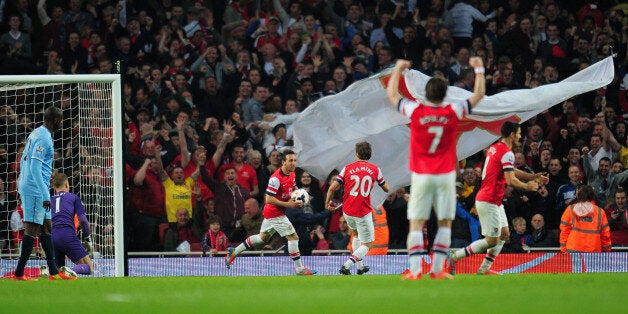 Advantage Liverpool. Less than three hours after Chelsea slipped up on the Crystal Palace banana skin, Arsenal and Manchester City took points off each other on a significant day in the Barclays Premier League title race, as Brendan Rodgers' side enjoyed their best day off of the season. Victory over Tottenham on Sunday will lift Liverpool to the top of the League with six matches remaining.
For Arsène Wenger and Arsenal, their title drought is destined to extend past 10 years following their gutsy draw. Mathieu Flamini's second-half equaliser brought about a brief rally, but Arsenal failed to capitalise during a rousing spell in which they threatened to avenge their 6-3 walloping at Eastlands in December. Their supporters cheered and applauded them off the pitch, even though another trophy slipped away from Wenger's grasp.
City will reflect on the outcome with regret given how they cruised through to half-time. David Silva's tap-in on 18 minutes promised another resounding away display four days after they triggered the Old Trafford mutiny, but City were overcome with surprise by Arsenal's spirited reaction.
Even taking into account City's home game in hand against Sunderland, Liverpool's superior goal difference - and kinder run-in - could mark this weekend as the most important come the season's conclusion. City have to travel to Merseyside - twice - and have not won at bogey team Everton in five years. The trip to Liverpool on 13 April should be decisive.
"No, I think our next game is Southampton," Manuel Pellegrini replied when asked about the Anfield agenda.
Wenger's approach re-emphasised Paul Scholes' scathing midweek criticism. "A few nice one-twos, nice tippy tappy football" was an accurate summary of an Arsenal team devoid of pace and craft in a dispiriting first 45. Tomáš Rosický, signed in 2006, appeared to be tasked with the same responsibilities as Yaya Touré, yet this was an evening Arsenal's underachievers mucked in and refused to buckle under the pressure of a top four fixture. It was a Jekyll-and-Hyde day.
Most games between the top four have been laden with opportunities and goals in first-halves this campaign, with the exception of Chelsea's trip to the Emirates Stadium, and City did not embody any genuine relish to "destroy" Arsenal as quickly as José Mourinho's team did a week ago.
Arsenal struggled to cope with City's right-hand combination of Pablo Zabaleta and Jesús Navas, but were at least reprieved by the Latin duo's deliveries, Džeko was suffocated by fellow beanpoles Thomas Vermaelen and Per Mertesacker, while pantomime villain Samir Nasri barely received the ball. Greeted with boos whenever he did, Silva actually spared him some personal abuse when he volunteered to take a corner instead of the baying home supporters.
City struck first similarly to Džeko's 42-second opener at Manchester United. Lukas Podolski, selected ahead of Alex Oxlade-Chamberlain, was dispossessed on the halfway line by Yaya Touré, who set David Silva on the charge and the Spaniard's weight of pass was perfect for Džeko to unleash an effort at goal. The ball rattled off the foot of Wojciech Szczęsny's right-hand post and Silva tapped in the rebound.
Arsenal did not register a single shot on target before the interval. They relished the billing of home underdogs when Liverpool visited in the FA Cup last month - and for 10 minutes against Bayern Munich - yet were unimaginative. Rosický tried to con referee Mike Dean into awarding him a penalty and Santi Cazorla had a goal correctly disallowed for offside in a first 45 which could be best described as plucky. The Gunners were firing blanks.
Nerves had affected Arsenal again. "Maybe you never played at that level and maybe it is very difficult to explain mental insecurity," Wenger politely replied when asked about his team's tentative start.
After the pause, though, Arsenal were rejuvenated and resembled a side who believed they could win a title. Cazorla eventually tested Hart in the 52nd minute and 31 seconds later Arsenal were level. The ease in which Arsenal worked the ball to Lukas Podolski on the left will have alarmed Pellegrini, and the German's pull-back was guided into the net by Arsenal cheerleader Flamini, who levelled for the second time - and a second team this week.
"We are in the semi-final of the cup, we knocked Tottenham, Liverpool and Everton out and we lost against Bayern with 10 men and drew 1-1 at Bayern. You don't do that if you are terrible," Wenger reminded the doubters.
Galvanised, Arsenal might have quickly gone ahead had the dithering Olivier Giroud anticipated Bacary Sagna's magnificent cross. Flamini, the arch-cheerleader, screamed encouragement at the striker and applauded Sagna for his service. Arsenal could sense a momentum shift and Hart fortuitously saved a Podolski piledriver which crept through his legs and past the post.
Podolski was sacrificed in favour of Alex Oxlade-Chamberlain, whose presence on the same pitch as Kieran Gibbs did not trouble the officials, when the forlorn Giroud had performed pitifully. Following one wayward effort, Rosický rushed to lift the Frenchman's chin back up again, but he remained sullen and eventually made way for Yaya Sanogo.
Džeko had deputised ably for Sergio Agüero with two goals at Manchester United but was erratic at the Emirates and belatedly hauled off for Álvaro Negredo. "You will always miss Agüero in every match. It's not easy to come here," a "happy" Pellegrini stressed. City have still earned four points from two vital fixtures in a week.
Rosický ought to have received a second yellow for upending Silva as both sides chased a winner, and although the final whistle elicited cheers rather than jeers, they will have roared louder on Merseyside.
Arsenal: Szczęsny; Sagna Mertesacker Vermaelen Gibbs; Arteta Flamini Rosický; Cazorla Padolski (Oxlade-Chamberlain) Giroud (Sanogo)
Manchester City: Hart; Zabaleta Kompany Demichelis Clichy; Touré Fernandinho; Nasri (Milner) Silva Navas (Garcia); Džeko (Negredo)
Related