Sebastian Junger, who worked with Tim on the Oscar-nominated 'Restrepo' and was meant to be with him in Libya where he died, spoke a few months ago with HuffPostUK about the need for reporters to keep a lid on their emotional response, if they are to do the job properly. Obviously, when it's a lost friend who is the subject, that becomes more complicated...
"I have to say as a former war reporter, you can't do the job without turning off your emotions at some point," reveals Sebastian Junger.
"You have to shut something down to do it effectively. Even with something as personally tragic as Tim's death, I could do that."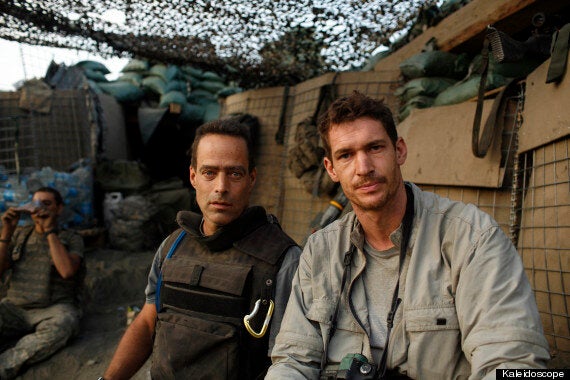 Sebastian Junger with his friend and colleague, Tim Hetherington
Despite Junger's clear-eyed professionalism, which has resulted in a moving portrait, a salute really to a fallen comrade, it is clear that the death of photographer Hetherington, caught in Libyan fire in April 2011, has left no small mark on the man who shared his Oscar nomination a year before for their war documentary 'Restrepo'.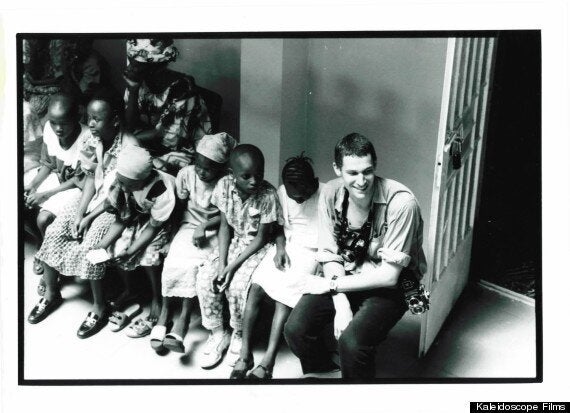 Tim Hetherington was drawn to documenting war, but equally to people in repose, as well as having fun
"Literally within an hour of hearing the news, I had decided not to go back," says Junger, who had intended to accompany Hetherington to Libya, before news of his wife's pregnancy kept him at home.
"I'm 10 years older. I've got 20 years in the can, a body of work I can be proud of. I've just decided not to."
Of the future, Junger remains undecided. "I don't even know if I'll carry on making films. Film is a function of telling a story, which is my main desire. I'm not a film maker prowling around for a story to tell. There might be other ways to do it."
Watching 'Which Way...?' it's clear he is a film maker, however, successfully capturing the essence of Hetherington's passion to get to the action, as well as his curiosity for people in repose, despite the most stressful of environments.
"What guided me was wanting to make a film that incorporated the things Tim found most meaningful in his own experience," he reflects now.
"I hope I never have to make a film about a person for these same reasons."
'Which Way Is The Frontline From Here? The Life And Time Of Tim Hetherington' is on BBC4 tonight at 10pm. It's also available on DVD through Kaleidoscope Entertainment. Watch the trailer below...