Marvin Gaye's many fans can still remember where they were when they heard news that the 'Prince of Soul', the man who had helped shape the Motown sound, had been shot dead on 1 April 1984 - 30 years ago today.
More tragically still, it was by his own father's hand, at his parents' home in Los Angeles. Marvin Gaye had always had a troubled relationship with his father and, this time, a domestic argument between husband, wife and son got out of control.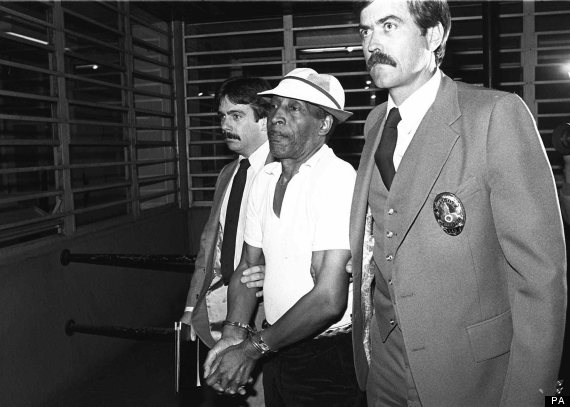 Marvin Gaye Senior is led away by police after fatally shooting his son
Marvin Gaye was shot with a gun he had given to his father as a Christmas present to deter would-be intruders. Instead, he was shot twice and pronounced dead on arrival at hospital
His father received a probationary sentence, and died of pneumonia in 1998.
The fatal shooting marked the loss of one of soul's most distinctive ever sounds - the warm tones of Marvin Gaye, heard on his early records 'How Sweet It Is (To Be Loved By You)' and 'I Heard It Through The Grapevine', and then later on 'What's Going On' and 'Let's Get It On'. His voice was also on million-selling duets with Kim Weston - 'It Takes Two' - and later with Tammi Terrell, including 'Ain't No Mountain High Enough' and 'Ain't Nothing Like The Real Thing'.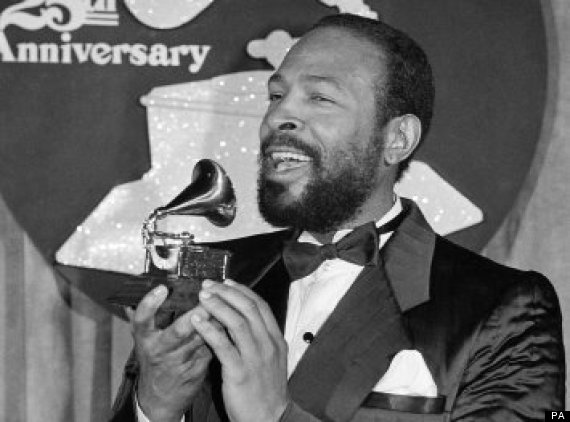 Marvin Gaye won a coveted Grammy Award in 1983 for 'Sexual Healing'
His influence can still be felt in the chords and rhythms of today. Performers including Kanye West and Mary J. Blige have sampled Marvin's work for their recordings.
And his name is always heard up there with the greats, and remembered even on song on several records, including the mournful lyrics of 'The Nightshift' by The Commodores, who sang, "Marvin, he was a friend of mine, and he could sing a song, his heart in every line."
We remember Marvin on stage, his happiness at receiving a Grammy Award only one year before his death, and how his Motown friends came together to remember him at his death in the long-unseen pictures below...
LIKE US ON FACEBOOK | FOLLOW US ON TWITTER