Although an appeal is inevitable, the chances of Barcelona succeeding in overturning their two-month transfer window ban like Chelsea did in 2010 are not as auspicious.
Whereas Chelsea placated Lens with a £1 million fee for Gael Kakuta, Barça were sanctioned over the signings of 10 minors. Here are some possible ramifications for the Blaugrana...
PINTO IN GOAL FOR A SEASON
Tata Martino had no choice, but it was apt Pinto's presence in goal for Atlético Madrid's quarter-final on Champions League came on April Fools' Day. A glorified cheerleader content with acting as understudy to the injured Victor Valdés these last six years, he may be popular amongst the Barça squad but that does not mean he will induce the same serenity as the club's No.1, or display similar qualities. Valdés' summer departure prompted Barça to line up a deal for German goalkeeper Marc-André ter Stegen, yet they could be stuck with Pinto, unless they promote a goalkeeper from Barcelona B.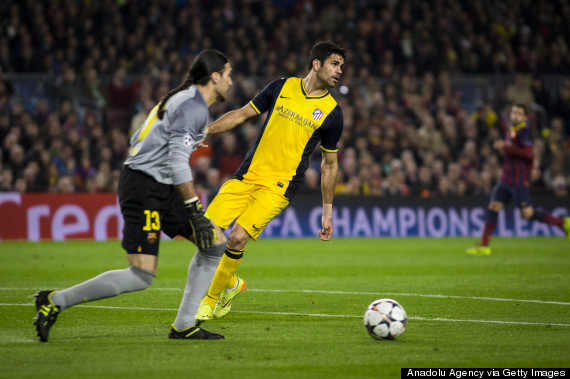 Pinto: A goalkeeper as dodgy as that ponytail
THE DEFENCE
So disastrous was the signing of Ukrainian defender Dmytro Chygrynskiy in 2009 that Barcelona seem to have developed a phobia of centre-backs, with Javier Mascherano dropping back from his favoured defensive midfield role. Carles Puyol has decided to end his Barça career at the end of the current campaign and Gerard Piqué is out for four weeks with a hip injury, which means they could have two defensive midfielders in defence when they travel to Atléti next week. That Alex Song and Sergio Busquets are the alternatives highlights the club's unforgivably poor planning in defence over the last three or four years.
AN AGEING SQUAD
Pinto is 38, Xavi is 34, Dani Alves is 30, Andrés Iniesta turns 30 next month and Javier Mascherano hits the big three-oh in June. All are first-teamers, and the average age of this Barcelona squad has likely contributed to a more languid playing style, which has coincided with their gradual regression. Like Manchester United, the squad needs to be reinvigorated, which might explain the free transfers handed to 35-year-old stalwart Puyol and Victor Valdés, 32. Following Fifa's ruling, Barcelona might approach both in the hope of prompting a U-turn.
REGRESSION?
Barça's steady decline is such that elimination at the hands of Atlético next week would not be considered a surprise. Should they progress at the Vicente Calderón, they will not even be second favourites in the last four, which made strengthening this summer absolutely essential.
Players are invariably happy to bide their time during an restrictive year at a club, such as Juventus' starry squad who played the 2006-07 season in Serie B following the calciopoli scandal. However that team had just won the Sucdetto whereas this Barcelona's aura is diminishing. Barça suits may be a bit more urgent about Lionel Messi's contract talks, too.