A Kurt Cobain musical COULD happen, according to Courtney Love, on the eve of the 20th anniversary of the Nirvana frontman's shock death.
Kurt's widow previously declared that "sometimes it's best just to leave things alone", but it seems she's changed her mind, telling NME magazine that it's likely his songs will form the backbone of a Broadway show.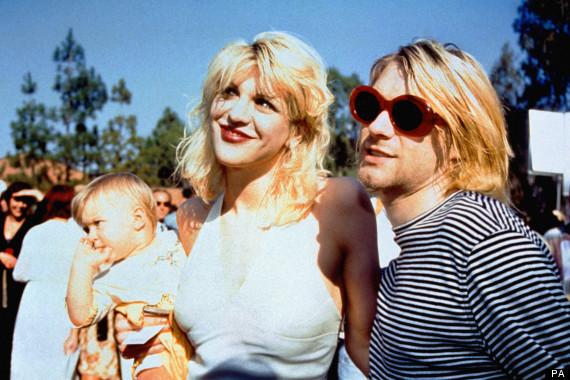 Courtney Love and Kurt Cobain with their baby daughter Frances Bean, now grown up
Courtney told NME that the condition of the musical going ahead was that she and the couple's daughter Frances Bean could ""reach up to the highest shelf and select a team of the greatest and most respected writers, producers and directors".
She said she was persuaded by the great amount of enthusiasm shown for the project by fans on social media, and for her wish for Frances Bean to enjoy her father's legacy.
"There would have to be a story, and a great story – one that hasn't been told before," she said.
Nirvana are also set to be introduced into the Rock and Roll Hall of Fame next week. It will be the first time Courtney Love has seen her long-time foe, Nirvana drummer Dave Grohl, in 20 years, she told Radio 4, but she has promised to be on her best behaviour for the occasion.
This comes only a few days after the 20th anniversary of Kurt's suicide in Seattle. Fans around the world are expected to commemorate the passing of their most revered pioneer of grunge.
LIKE US ON FACEBOOK | FOLLOW US ON TWITTER