Men, we may pat you on the back as you head off to Homebase with a spring in your step, but according to a recent study, 25% of women think you're crap at DIY. (But we still love you).
Nearly half of women actually feel nervous when their loved one decides to make a home improvement, and a fifth say their other half usually creates another problem despite fixing the original issue.
Over-confidence seems to be the main problem among men - almost a third of guys have painted a room and immediately regretted the choice of colour.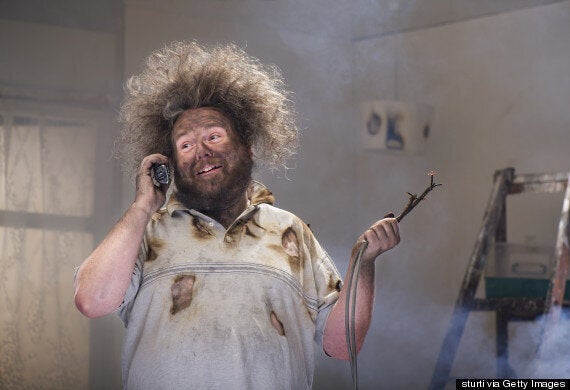 A quarter have drilled holes in the wrong place, while 20% have spilled paint on the carpet. What's more, 27% have missed parts of the wall while painting. As a result, a fifth of DIY jobs remain incomplete.
Sounds familiar? And that's before we even get to the accidents.
More than a fifth of male DIY enthusiast have ended up in hospital following a mishap, while 15% have called 999. The most common injuries were caused by hammering (54%), sawing (32%) and drilling (23%).
A spokesman for the Command Brand from 3M who conducted the study said: ""Accidentally drilling holes in the wrong place and putting up pictures that instantly fall down, feature highly on the list of common home improvement mistakes."
2. Accidentally drilled holes in the wrong place
3. Spilling paint on the carpet
4. Failed to finish the job
6. Failed to follow instructions
7. Bought the wrong tools for the job
8. Pictures or shelves collapsed
9. Attached things upside down
10. Drilling through pipes