Last week it was a ball boy and this week it was a cameraman. Chelsea and Stoke had not even kicked-off and José Mourinho had already taken umbrage with another pitchside pest. The last time Liverpool were involved in a title race, their manager was accused of "cracking up" and the Kop could get their chance to serenade Mourinho with a similar ditty later this month.
He was vexed the cameraman had homed in on the impotent Fernando Torres. "I think the cameraman can do very good professional work without, I'm afraid to say the word..." Mourinho didn't scribble "balls" on a piece of paper this week.
The risk of a trophyless campaign and the manager openly shattering players' confidence is a familiar scenario at Chelsea. The team's form and the fractious player-manager relationships resemble the last days of a coach working under Roman Abramovich, as they excruciatingly waited for the trigger to be pulled. André Villas-Boas was sacked ahead of the return leg with Napoli in the Champions League two years ago and his successor, Roberto di Matteo, lost his job the morning after a decisive defeat away at Juventus. Mourinho is not staring down the barrel just yet only because he is Mourinho, even after three defeats in the last five.
However, when Mourinho was in Abramovich's crosshair six seasons ago he caught the bullet after a draw in September. Summer, autumn, winter or spring, Abramovich does not hesitate to pull back his index finger and a second successive trophyless term for Mourinho would leave him vulnerable. Regarded as one of the few managers whose arrival brings with it near-guaranteed success, his aura is in danger of diminishing.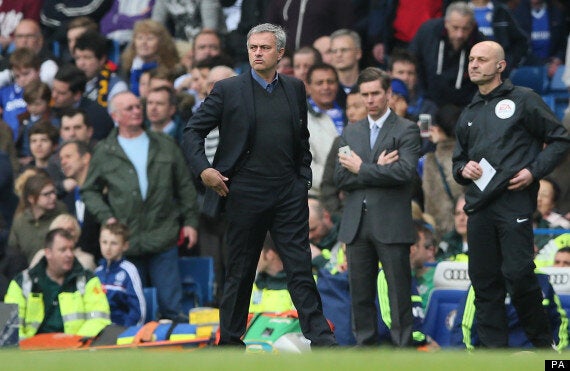 Cameramen beware: Mourinho will be looking for you in the future
And he will be acutely aware the last manager who failed to update the trophy cabinet over the course of a season was fired. Carlo Ancelotti was told after the final shrill on the final day in 2011 he would not start a third year in charge, having overseen the club's first ever League and FA Cup double triumph just a year earlier.
Despite their flaky form, though, Chelsea are top for 20 hours at least. Stoke never looked capable of inflicting a first Barclays Premier League home blow on Mourinho, yet the comfortable margin of victory was not reflected by the ill-tempered Portuguese. Since he labelled Arsène Wenger a "specialist in failure" he has not been the same calm coach who could be seen sharing a joke during a win over Tottenham when the scoreline was goalless and the game 50 minutes old. He was at his tetchiest on Saturday.
"No, the situation is the same," he responded when asked whether Chelsea were back in the title race. "The table is again fake, the table has a lot of matches in hand. We cannot say we need X points to be champions."
It may be too late, but this was perhaps Chelsea's finest performance against a team outside of the top six. Their recent results at Aston Villa and Crystal Palace prolonged the pattern of League losses at bottom-half clubs, and Stoke had beaten Chelsea in December. Stamford Bridge is Mourinho's fortress in domestic competition, though, and the discipline and temperament that was lacking at Selhurst Park and Villa Park was restored. This was a game which allowed Chelsea to "recover a little self-esteem, a little confidence", in Mourinho's words. But Chelsea players "have to to adapt. If I go to a wedding, you don't go in jeans," said Mourinho.
"We all need to pull together," Mourinho preached in his programme notes. "Tell that to the manager," his strikers might opine. Mourinho at least started with an out-and-out forward, as Torres deputised for the injured Samuel Eto'o in the wake of André Schürrle's midweek stint up front in Paris, while ineligible European pair Mohamed Salah and Nemanja Matić replaced David Luíz and Eden Hazard, with Frank Lampard preferred ahead of Oscar. Torres fired wide inside 10 minutes but was not as wasteful as the buccaneering Branislav Ivanović.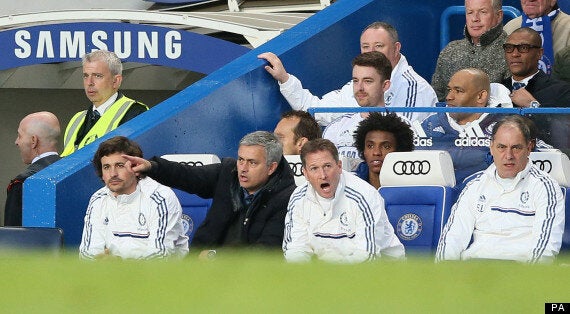 Mourinho hardly looked pleased with Chelsea's professional performance against Stoke
After Paris Saint-Germain's victory, Mourinho bemoaned Chelsea's lack of a "real striker" and his description was most pertinent when Torres contrived to miss a presentable chance in the 24th minute. The Spaniard was gifted a one-on-one when Erik Pieters cushioned the ball into his path from Cesar Azpilicueta's cross, yet he stumbled after his first touch and Asmir Begovic smothered the ball. Mourinho looked more unsurprised than disappointed. Torres would not get on the scoresheet.
Mourinho was more animated when Torres' theatrical dive did not earn a penalty. Mourinho's gripes have scarcely been heard in the Stamford Bridge press box since he returned, yet he was audibly livid as he took out his ire on the fourth official, Roger East. It was ludicrous to combust in such a manner, but at least he declined to blame a striker on this occasion.
Mohamed Salah scored eight minutes later to settle an impatient crowd. Mourinho remained as unmoved as Robert de Niro but morphed into Joe Pesci soon after when he angrily remonstrated with the Stoke City assistant manager Mark Bowen, evidently still miffed Torres had not received a penalty. He could have no complaints when Ivanović's headed goal was rightly disallowed for offside.
But the other linesman was not as fortunate. Indecision over a throw-in prompted an infuriated Mourinho to leap out of his seat again, even though Chelsea earned the set-piece. His own assistant, Rui Faria, was not spared, either, during an irascible first 45 minutes in which there was more entertainment on the touchline than on the pitch.
Stoke were their usual rumbustious selves. Charlie Adam, retrospectively banned for stamping on Olivier Giroud earlier this year, was fortunate not to be censured when he trod on Schürrle, although the incident happened so frantically Mourinho remained seated. He was not as furious after the interval, chiefly thanks to the surrendering Stoke.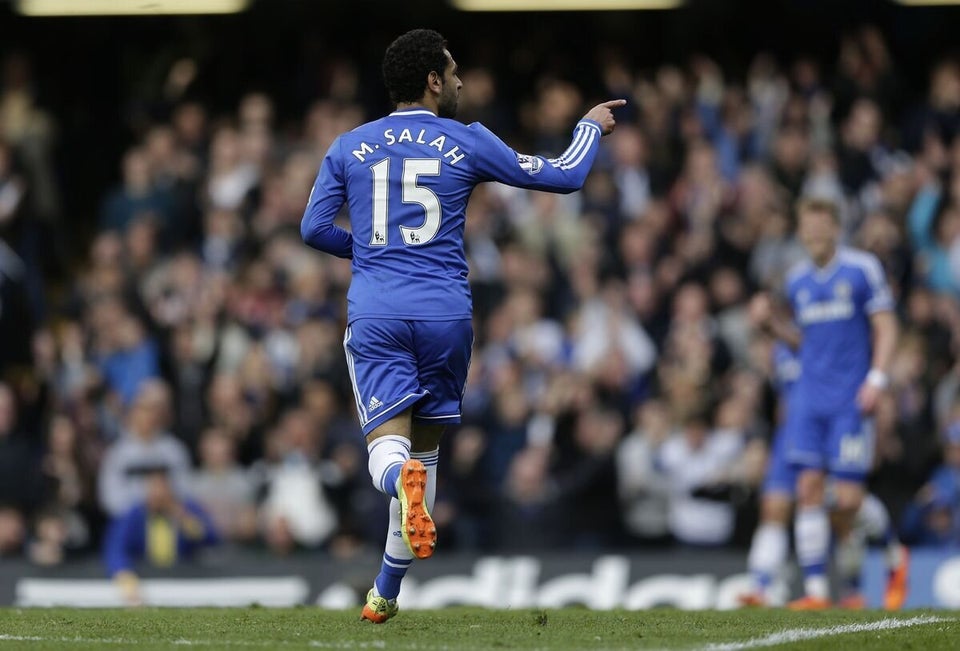 Chelsea 3-0 Stoke
"I like aggressive football," Mourinho deadpanned. "I can't go inside the player's brains to make the decision whether it was intentional to hurt or not."
On the same day Juan Mata sparkled for Manchester United, his indirect replacement - Salah - also shone. Starting on the right, he finished his second Chelsea goal with a sweetly-struck left-footer and dribbled across the pitch to be upended by the awful Andy Wilkinson and win the game-killing penalty. Spotkick expert Eden Hazard had just replaced Schürrle yet Lampard was allowed to take the kick. Begovic denied him, but the ball span out of his grasp and the veteran midfielder tapped in his eighth goal of the season. His manager's mood barely improved during the game, although Mourinho was glowing afterwards.
"I think Chelsea did very well [to buy him]. We sold a great player who is 26 or 27-years-old [Mata, who is 25] and we bought a kid from a different habitat, an Egyptian player playing in Switzerland, we knew the kid was going to need time. We know next season he will be a really good player for us. This season step-by-step.
"One thing is you feel immediately is the connection between him and the crowd. They like him. They like his style of playing. Chelsea did very well to bring him."
Salah, vivacious and versatile, was moved into the No.10 role upon Hazard's introduction and assisted Willian's classy curler in the 72nd minute. The game's standout aesthetic moment could not generate a flicker of a smile from Mourinho, either. No one has believed Mourinho's defeatist drivel about Chelsea's small chances of a title win, but they might now, even in victory.