A 15-year-old student who shaved her head to raise money for charity in memory of her grandfather has been told she will be excluded from school unless she wears a wig.
Jess Vine, who lives on the Isle of Wight, bravely lopped off her long locks, which came to below her waist, to fundraise for Cancer Research UK, after her grandfather lost his battle with the illness last year, according to student-run website Yoppul.
Jess' mother Wendy told the site: " She's got such long hair, and she's so young, I wondered 'is she going to regret it?' She's wanted to do it for a long time already, but I didn't let her until now. I have to give her my blessing, though, because she'd only go and do it behind my back otherwise!"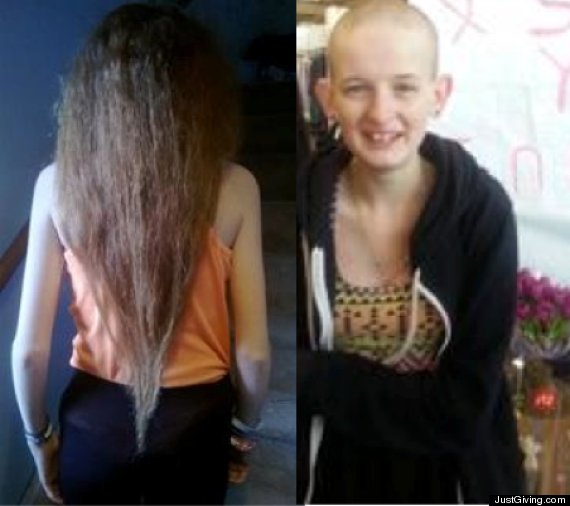 Jess' long hair before she shaved it off, and after
Writing on her Just Giving page, Jess said: "I am 15yrs old n ever since i was younger i wanted too shave my hair off for cancer always have done. And now it is time too finally do it all money goes too cancer! any little penny helps! The target doesnt matter i dont care what the target is i just had to fill it in. thanks
Jess shaved her head on 29 March in the lobby of her local Tesco in Ryde, however she has now been told by her school, Ryde Academy, she cannot attend classes unless she wears a wig.
Wendy says her daughter was banned from lessons if she went to school without her wig. "It's ridiculous after what she has done for charity," she told the Metro.
Ryde Academy confirmed Jess had to wear the wig as part of uniform policy.
A spokesperson for the school told HuffPost UK: "Over the last few months Ryde Academy has been working hard to improve student behaviour, conduct and achievement and this has involved dealing with a number of issues to do with students appearance and haircuts. We were recently approached by a student to ask if we would allow her to shave her hair for charity.
"She herself recognised the difficulties her request might lead to, so she offered to wear a wig so that her haircut would not be noticeable during school hours. Under those conditions we were very happy to support her fundraising for charity.
"Our policy about hair is that it should look natural. If there are medical reasons why this is not possible then we make a reasonable adjustment."