It is Sky Sports protocol to focus on the stands when they are in need of drama. At half-time of Everton's recent defeat of Arsenal, they homed in on club chairman Bill Kenwright, stood in the stands applauding the team off en route to victory. The insinuation seemed to be that this was the man who had masterminded Everton's resurgence, when it has all come by accident.
Kenwright has actually restricted Everton during his 15-year stewardship. Everton's net spend over the last five years alone is the second lowest out of all the 20 Premier League clubs, behind only Newcastle, another club annually accused of lacking ambition. It partly explains manager Roberto Martínez's reliance on loan signings, having spent just over £20 million on Joel Robles, Arouna Koné, James McCarthy and Aiden McGeady this season.
"Whilst being a supporter of the club implies a series of values, one of which is having the interests of the club at heart, trusting Kenwright is all a bit like believing a politician who says he is acting 'in the public interest,'" Evertonian Stephen Maunder said. West Ham supporters recently booed the team after a laboured victory because they demand higher standards, a quandary Charlton faced during Alan Curbishley's final few years. It is a scenario familiar to Everton followers.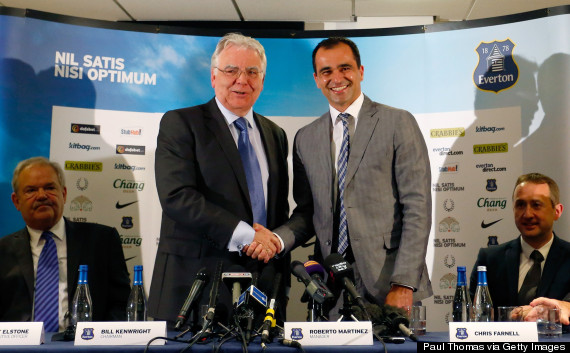 Martínez was the obvious candidate to succeed Moyes after 11 years
The eighth-placed finish in 2011 was perhaps the nadir of Kenwright's reign. On transfer deadline day, Jermaine Beckford, Mikel Arteta and Yakubu were all sold, as David Moyes had to rely on the loan signings of Marcus Hahnemann, Royston Drenthe and Denis Stracqualursi. Kenwright told shocked fans in London: "Every club wants to be Everton. Every one of them." The Blue Union, set up as a conglomeration of supporter groups protesting for change at the club, proposed the appointment of an interim board to sell the club on behalf of Kenwright, who after many years of searching for "investment", had yet to attract a single pound.
Kenwright claimed he was a living example that "nobody can make money from football", and said he was "desperate to sell". To which some added "if the numbers suit him".
Everton last finished outside of the top 10 in 2006, the season they failed to qualify for the Champions League group stages. In David Moyes' last seven seasons, they finished outside of the top seven once. The club - and Moyes - had stagnated, a fact reaffirmed when Martínez's Wigan Athletic humbled them in the quarter-finals of the FA Cup last year. However, like the Arsenal hierarchy, Kenwright feared change.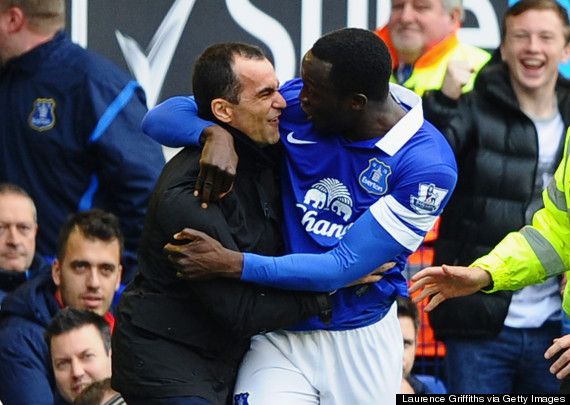 Everton beat Arsenal to move within a point of the Gunners on Sunday
There were chances to end Moyes' premiership. After the underwhelming 2009-10 campaign, or the surrender in the 2012 FA Cup semi-final to Liverpool, however Kenwright and Moyes enjoyed a strong relationship and you never sensed the chairman even owned a pistol, let alone had an itchy trigger finger.
Ultimately, fortune intervened as Moyes, inexplicably, was anointed Sir Alex Ferguson's successor and Kenwright, after 11 years of contentedness, had to hire a new manager. The logical replacement was 19 miles away.
Martínez was the obvious candidate, irrespective of Wigan's recent relegation. Some Evertonians had qualms such a big club that challenged for a European place should turn to a coach braced for a year in the Championship, but they could not afford to be choosy. Everton have won more titles than Chelsea, Manchester City and Tottenham, yet they also last won a trophy when Robson Green and Jerome Flynn were No.1.
Fortunately, for Kenwright, he had an easy decision to make, like selecting between Moyes and José Mourinho (oh, wait), and appointed a young manager who had taken charge of the biggest FA Cup shock in 25 years. Martínez is also positive, rather than pragmatic, something Evertonians became accustomed to under Moyes.
"When David [Moyes] first came to see me," Kenwright explained at Martínez's press conference unveiling last year, "he sat down 11 years ago and we were in a bad state, and he said: 'We're not going down.' Almost Roberto's first words to me were: 'I'll get you in the Champions League'."
Few expected it could occur within a year. It may not happen, still. Arsenal have an easier run-in, whereas Everton entertain both Manchester clubs, travel to Southampton and are wrestling with the possibility of aiding a first Liverpool title win in 24 years.
However, they have defied expectations and should finish above Manchester United and Tottenham. Everton ended their top four hoodoo at Old Trafford in December and have lost just once at home all season, when they were reduced to 10 men against Sunderland.
The rug could be pulled from beneath their feet, though. The reliance on loanees is a symptom of the Kenwright regime, and is a reminder why Everton's progress is not down to him.