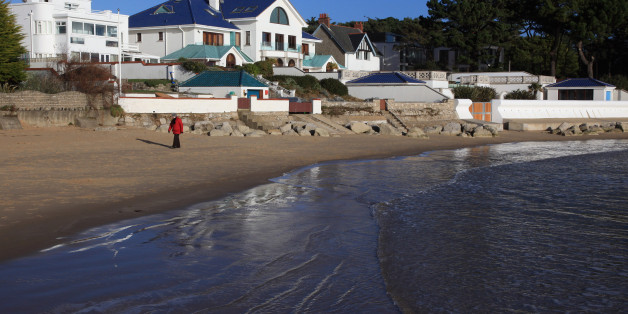 Matt Cardy via Getty Images
Affluent residents in an exclusive part of the Dorset coast are having their evenings "blighted" by party-goers who have brought "naked butlers" and "prostitutes" to the area. Residents of Poole on the south coast are calling for an end to the renting of luxury properties worth millions of pounds in the Sandbanks area, to raucous hen and stag party groups who besiege the area.
The so-called "party houses" can be rented out for around £1,000-per-weekend and host up to 30 guests. The late-night revelries could force some to "take the law into their own hands" warned the local Conservative MP Robert Syms. In a Westminster Hall debate, Mr Syms said: "The reality is that we have to do something about this, because it's making people's lives a misery."
"Constituents are fearful on Friday afternoon to have a look at these homes and see the number of cars which have come in. They pray for rain because people stay inside rather than stay outside; they know there's going to be anti-social behaviour." Mr Syms said some of the websites through which Poole properties were being advertised were offering a number of associated services, "if you are a hen party you can rent a naked butler, which causes some concern when they are serving drinks on a hot afternoon in the garden".
He added that one constituent complained about returning home one day, with his seven-year-old daughter, "to find that the house next door had blow-up dolls brought from a sex shop all the way around the veranda". Another resident complained about "prostitutes being delivered well into the night", while a retired solicitor and his wife resorted to buying themselves a caravan "so that they can get out at the weekends and actually get a night's sleep", according to the MP.
Beach-side properties in Sandbanks, a small sand dune on the Dorset coast, are valued in excess of £10 million. The area was named as the fourth most expensive place to live after London, Manhattan and Moscow, according to Poole's tourist board. Terence Stewart, president of the local residents' association, said the party homes were a "horrendous blight" on the area.
"There are eight properties in total and we never know whether they will be occupied one weekend to the next. Residents have suffered for over two-and-a-half years now, with the main concerns being noise and shrieking all night." The Borough of Poole council said that they had received 16 complaints from residents about noise from six properties since 2011. The council has also served noise abatement on two such houses after installing digital noise recorders in neighbouring homes.
May Haines, a councillor for the Canford Cliffs ward which includes Sandbanks, said she had no objection to people enjoying themselves but that a residential area was not the "appropriate" location for such party houses. Ms Haines said: "We have several houses which, because the owners can't immediately sell, are used as holiday homes to rent out on a short-term basis.
"Our main objection is that it's in the middle of residential area. We are very lucky to live where we live and quite a lot of people worked very hard to earn the money to live here, and then suddenly they find it's not what it seems," she said.
Home Office Minister Norman Baker said new laws coming into force later this year would help local authorities deal with party houses. He said: "I believe that the new powers being introduced later this year, I believe, will allow councils and the police to deal with the kinds of situation that you have described this morning. But I want to be clear that these kind of short-term letting arrangements do not always result in anti-social behaviour."
Mr Baker added that the Anti-social Behaviour, Crime and Policing Act 2014 would empower councils to deal effectively with the examples provided by Mr Syms, on a case-by-case basis.