Olympic champion Mo Farah missed out on victory at the London marathon, and on breaking the British record, as he came home in eighth place for his course debut.
The 31-year-old, who was running his first competitive marathon, was cheered on by throngs of spectators as the athletes embarked on the 26.2 mile route.
But despite being installed among the bookies' favourites for the race, Farah failed to break into the podium positions.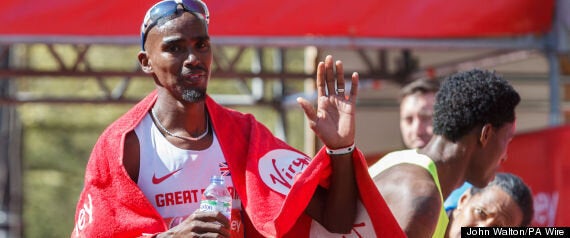 Mo Farah came in at eighth place in the London Marathon
Kenyan world record holder Wilson Kipsang took the Virgin Money London Marathon title in an unofficial time of 2hrs 04mins and 29secs, a course record, with Farah coming home almost four minutes back.
The Briton's time of 2hrs 08mins 21secs was outside Steve Jones' 29-year-old British record of 2:07:13 and could persuade him that his future remains on the track rather than the road.
Champion runner Haile Gebrselassie had been recruited as pace-setter in an effort to encourage a record time - but forecasters said the heat may have had an influence on the race.
Paul Mott, forecaster with MeteoGroup, said: "After a cool start temperatures have been rising sharply.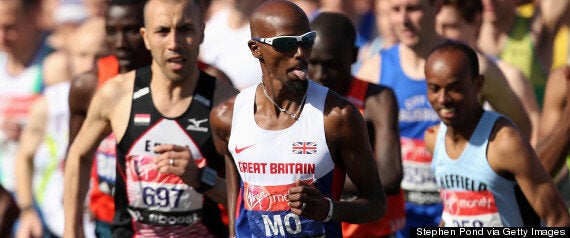 Mo Farah ran the course in 2hours, 8 minutes
"It is likely to be about 16C or 17C by 2pm, so I think the runners will be feeling the heat.
"The ideal running temperatures would be a little cooler, so they will need to take on water.
"However, the weather will make it great for spectators."
Along every inch of the course, the several-deep crowd cheered raucously as friends, colleagues and even strangers - with their names emblazoned across their vests - pounded the road.
Celebrities taking part included former Liverpool and England striker Michael Owen, Game of Thrones actress Natalie Dormer, and Michelin-star chef Michel Roux Jr.
Labour politicians Ed Balls, Andy Burnham and Sadiq Khan also posed for "selfies" in their running vests in the moments before the race began.
And there was the customary collection of those undertaking the marathon in fancy dress - with plenty of comic book characters, runners in furry animal costumes and others in drag.
Another carried a fridge on his back.
Race starters Katherine Grainger and Anna Watkins, who won the women's double sculls gold at the London 2012 Games, were two of 13 London Olympics gold medallists taking on the famous course, which ends at The Mall.
Kenya's Stanley Biwott was second in the men's race, with Ethiopian defending champion Tsegaye Kebede third.
Kenyan Edna Kiplagat won the women's elite race in 2:20:21.