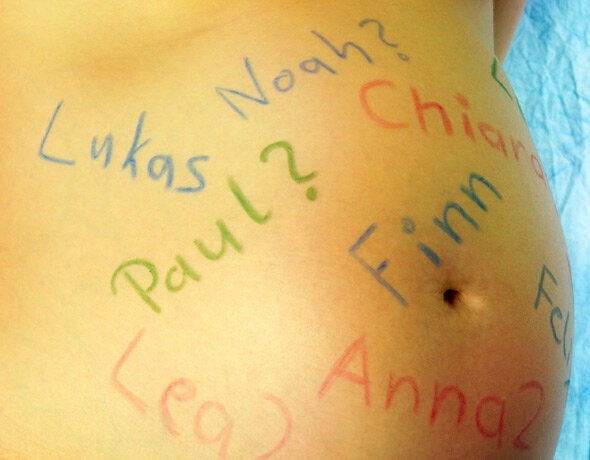 Some parents strive for an original name that won't appear more than once on the register when their child starts school.
Others choose a family name, or search for a classic moniker that will never go out of fashion. For many parents, a popular name that's in vogue right now is the way forward. But beware; fashions change, even when it comes to baby names.
We take a look at the most popular UK baby names now - and back in the day.
Top 10 girls names, 2010*
Olivia, Ruby, Emily, Grace, Lily, Jessica, Amelia, Chloe, Isabella, Emma
In 2010, the most popular UK girls' names had a classic, timeless feel - many are shared by contemporary Hollywood actresses, such as Emily Blunt, Jessica Alba and Chloe Sevigny – as well as past icons, like Grace Kelly.
Jack, Harry, Alfie, Thomas, Oliver, Daniel, Joshua, Charlie, Mohammed, George
In 2009, Jack fell to number two (behind Oliver) after 14 years at the UK top spot, but in 2010, it was back in pole position. Alfred had been branded as 'old-fashioned' for years, but Alfie continues to grow in popularity – could that be down to Eastenders' character Alfie Moon?
Top 10 girls names, 2009**
Olivia, Ruby, Chloe, Emily, Sophie, Jessica, Grace, Lily, Amelia, Evie
Although Olivia, Chloe, Emily and Sophie are well-established favourites, occasionally, more unusual names like Amelia and Evie make a brief appearance in the top 10. The rising popularity of Lily could well be down to Ms. Allen.
Top 10 boys names, 2009**
Oliver, Jack, Harry, Alfie, Joshua, Thomas, Charlie, William, James, Daniel
Although Harry didn't appear in the UK's official top 50 baby name lists at all between 1944 and 1994, the rise of Harry Potter may explain why it continues to climb the top 10 after making its first appearance there in 2000.
Top 10 girls names, 1999**
Chloe, Emily, Megan, Olivia, Sophie, Charlotte, Lauren, Jessica, Rebecca, Hannah
Chloe is still a popular name, but in 1999, it had hogged the top spot for four years. Very 'girly' names like Rebecca, Lauren and Charlotte have fallen slightly out of favour in more recent times.
Top 10 boys names, 1999**
Jack, Thomas, James, Joshua, Daniel, Matthew, Samuel, Joseph, Callum, William.
Unlike the more 'modern-sounding' girls' names in favour at the time, the 90s saw a real trend for boys' biblical names. While nine of the names in the UK top 10 were popular on both sides of the Atlantic, Callum is rare in the US.
Top 10 girls names, 1984**
Sarah, Laura, Gemma, Emma, Rebecca, Claire, Victoria, Samantha, Rachel, Amy
Parents naming their baby girls in 1984 were daring to be different with choices that had never really been in favour before, like Gemma. Claire was slipping down the charts after peaking in the 70s, but Amy was coming back into fashion after many years in the wilderness and has remained popular ever since.
Top 10 boys names, 1984**
Christopher, James, David, Daniel, Michael, Matthew, Andrew, Richard, Paul, Mark
Although the 80s was a decade of flamboyant clothes, hair and attitudes, male baby names in the UK remained fairly traditional. 1984 was the only year in which Christopher topped the poll - in 2009, the name had slipped to its lowest ever ranking of 94.
Top 10 girls names, 1974**
Sarah, Claire, Nicola, Emma, Lisa, Joanne, Michelle, Helen, Samantha, Karen
In the 70s, funky-sounding names like Joanne, Nicola and Michelle burst onto the charts – but their popularity was short-lived as they had dropped off the radar by the 90s and 2000s. At least now we know why there is always a handful of 30-something women called 'Jo' at every social gathering!
Top 10 boys names, 1974**
Paul, Mark, David, Andrew, Richard, Christopher, James, Simon, Michael, Matthew
Popular boys' names didn't change radically during the 70s and 80s - Paul McCartney might well be responsible for the numbrt one spot, though. Simon peaked in popularity in this decade, making it into 1974's top 10. Perhaps the launch of 'Simon the memory game' in 1978 put people off?
Top 10 girls names, 1964**
Susan, Julie, Karen, Jacqueline, Deborah, Tracey, Jane, Helen, Diane, Sharon
The most popular baby names of the swinging 60s are almost completely out of fashion now – particularly Sharon and Tracey. Tracey was so popular in 1964 that the alternative spelling (Tracy) was at number 12 in the poll.
Top 10 boys names, 1964**
David, Paul, Andrew, Mark, John, Michael, Stephen, Ian, Robert, Richard
Paul and John were already riding high in the 60s baby name charts – George and Ringo were yet to follow suit. Ian – meaning 'God is Gracious' – had been growing in popularity since the turn of the century, but it was at its short-lived peak in the 60s.
Top 10 girls names, 1944**
Margaret, Patricia, Christine, Mary, Jean, Ann, Susan, Janet, Maureen, Barbara
Wow – 1944's top 10 sounds like the cast of Coronation Street. Margaret was hugely popular for the first half of the century, but thanks to the Simpsons and Jake Gyllenhall's sister, the abbreviated form – Maggie – is more fashionable nowadays.
Top 10 boys names, 1944**
John, David, Michael, Peter, Robert, Anthony, Brian, Alan, William, James
William has certainly come back into fashion, but Brian and Alan are far from hot property when it comes to naming a baby these days. Peter has been out of the top 100 since 2003 – even Peter Andre couldn't make a difference.
Top 10 girls names, 1924**
Margaret, Mary, Joan, Joyce, Dorothy, Kathleen, Doris, Irene, Elizabeth, Eileen
From the 1924 girls' top 10, only the name Elizabeth has remained consistently popular over the last 100 years. Sadly, even Doris Day and the massive Dexy's Midnight Runners' song 'Come on Eileen' failed to reignite interest in these names.
Top 10 boys names, 1924**
John, William, George, James, Thomas, Ronald, Kenneth, Robert, Arthur, Frederick
Although Ronald and Kenneth would still be an unusual choice in the 21 century, names like Arthur, George and Freddie seem to go to the coolest kids nowadays. Other 'hip' names in 1924's top 50 include Stanley, Edward, Leonard and Henry.
Top 10 girls names, 1904**
Mary, Florence, Doris, Edith, Dorothy, Annie, Margaret, Alice, Elizabeth and Elsie
Does this list sound like your little girls' roll call at school? Over a century later, and girls' names that had all-but disappeared are back with a vengeance, notably Alice (50 in 2009) and Florence (80 in 2009). Other names in 1904's top 50 that are making a 21 century comeback are Rose, May, Lily, Violet, Jessie and Daisy.
Top 10 boys names, 1904**
William, John, George, Thomas, Arthur, James, Charles, Frederick, Albert, Ernest,
Boys' names have also come back around – four of the names in 1904's top ten (William, Thomas, James and Charlie) featured in 2009's top 10. Sadly, Albert and Ernest have been cast out of the top 100 since the 40s and 50s – but if you're looking for an unusual name with a good pedigree, perhaps they are worth considering?
** Source: Office for National Statistics
Johanna Payton is a journalist with a six year old son. She writes regularly for national magazines and newspapers including LOOK, the Daily Express and EasyLiving and is author of the blog,
.