Sam Allardyce has come to represent everything Arsenal have feared during their barren run. He has managed inferior teams against Arsène Wenger yet his artisans have a tendency to embarrass the aesthetes. Although West Ham United have recorded only four wins on the road this season their manager's presence alone induces anxiety.
And it could easily have gone awry for Arsenal. West Ham, tenacious and bright, deservedly took the lead four minutes before half-time but Lukas Podolski's equaliser could prove to be the most important goal of another tumultuous season for Wenger and Arsenal. The team was cheered, rather than jeered, down the tunnel and 15 minutes later emerged reinvigorated.
The supporters were not put through an unbearable finale of West Ham hoofing the ball into Andy Carroll's atmosphere or Mohamed Diamé driving through their midfield. For the first time in a month, Arsenal showed resilience and won their first Barclays Premier League game in five. There was little or nothing to recoil over this time.
"We were tested mentally but we were united, disciplined, determined," Wenger said. "I couldn't see where we could be 1-0 down, it was a big blow, but we responded well. You could feel the team was absolutely focused from the first to the last minute."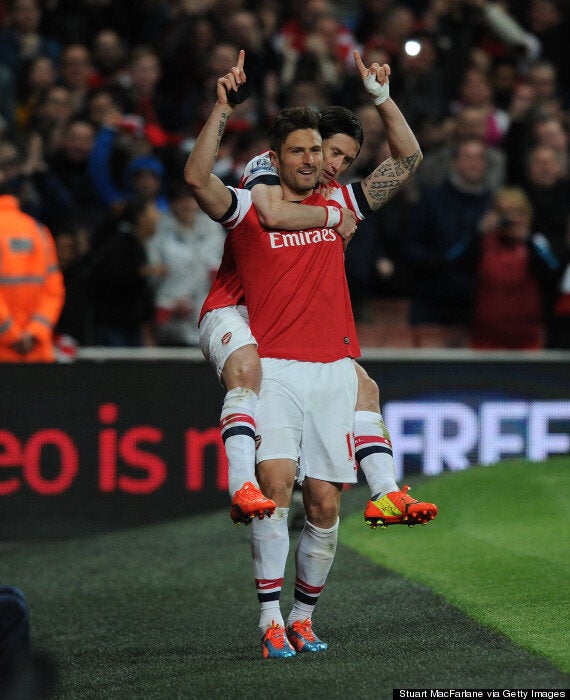 Olivier Giroud hit the winner for Arsenal
Arsenal's surge back into the top four has not been as momentous or ominous as the last two seasons. Tottenham's absence from the Champions League qualifying fold has contributed to their complacency against Roberto Martínez's enthralling Everton, and, considering their only League win last month was at their neighbours, it is not unfair to suggest Arsenal miss them.
In these anxious times at Arsenal, an Allardyce side's arrival is cause for consternation, rather than confidence. Allardyce has beaten Wenger five times as a top-flight manager but it was a game that he didn't win which left the Arsenal manager with mental scars. Bolton Wanderers's recovery from 2-0 down to draw 11 years ago not only compelled an exasperated Wenger to yank his tie off, but it was a result the Gunners never recovered from and their last dangling finger ceded the Premier League trophy to Manchester United the following week.
Since then, Arsenal's fixtures against Allardyce teams have been stamped "banana skin", despite the former Bolton and Blackburn manager registering just five wins over the course of a decade. Arsenal did not win in their last five League visits to the Reebok Arena and only ended that run when Allardyce made his fateful journey to Newcastle in 2007. He is about as welcome at the Emirates as Chas and Dave.
Arsenal made light work of the third Allardyce incarnation last season, though. They walloped West Ham 3-1 at Upton Park and 5-1 at home, and did so again. Everton's ascension to fourth at the weekend was not forgotten by some of the more disenchanted Arsenal fans inside Wembley Stadium, judging by the mutinous moans when Wigan were ahead. Wenger insisted in his programme notes they were "fantastic, even when things looked bad". He must have had earplugs in.
For a club synonymous with youth and naïfs, Arsenal's oldest outfield player was 27. Although Mesut Özil and Jack Wilshere are injured, and Alex Oxlade-Chamberlain and Aaron Ramsey were not risked, this was further proof of Arsenal's stagnation under Wenger.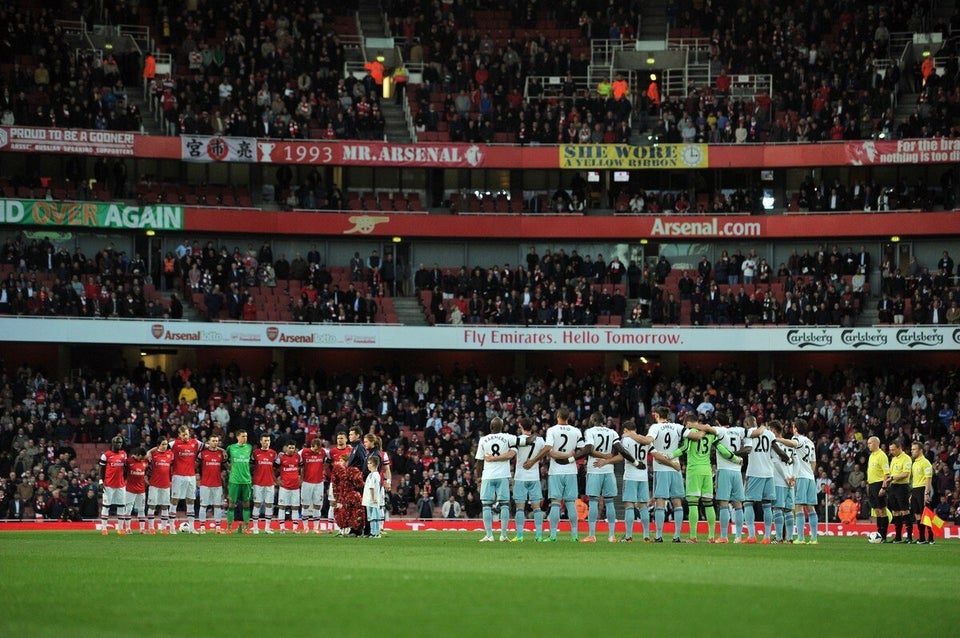 Arsenal v West Ham
"It was a gamble but I said before the game, as well, that it was the oldest team, certainly, I've played at Arsenal since I was here," Wenger admitted, "so I trusted the experience of the players. It was an unusual team."
More surprising than Arsenal's average age was West Ham's adventurous start in the first ten minutes. The Emirates Stadium, pockmarked by empty seats in the second and third tiers, resembled a mundane springtime match and the home side did their best to harden that image in the opening half-hour.
During their FA Cup semi-final, Arsenal could have impersonated a team set to "on the beach" mode. In Mikel Arteta's case, it is impossible to tell when he does not give the impression of a sunbather kicking a beach ball around, and it was especially damning that Kim Källström, his midfield sidekick, looked more mobile despite not starting a professional match since Portugal beat Sweden in the World Cup play-offs in November.
Unfortunately for Arteta, Mohamed Diamé was bossing the midfield. Earmarked as an interim solution to Arsenal's defensive midfield issues last season, he has not reached the same indomitable heights, when he scored memorably against Chelsea, Manchester United and Arsenal, and this was a reminder of just how imposing he can be. It is not Arteta's fault he is tasked with a role he is patently not suited to, and the list of opponents that have re-emphasised the glaringly obvious is endless.
With the game approaching the half-hour mark, Arsenal fans finally found their voice and Olivier Giroud should have rewarded them. Antonín Panenka would have found his attempted dink offensive, though. The effort was so poorly executed for a second it looked as though Adrián might be deceived by its sheer innocuousness. He would later make amends.
West Ham's followers had barely begun hollering "Are you Tottenham in disguise?" and Arsenal's contingent were denied the chance to air their mutinous misgivings four minutes after Matt Jarvis broke the deadlock in the 40th minute. Podolski drilled in an equaliser, followed by a welcome muted celebration after Aaron Ramsey and Santi Cazorla's Saturday selfie, and it set the mood for an auspicious result.
West Ham never regained their momentum after the pause. Giroud atoned for his frivolous finish with an exquisite first touch and hit reminiscent of Dennis Bergkamp, from Thomas Vermaelen's hoisted diagonal, in the 55th minute to restore order. It was the Frenchman's 20th of the season from 45 games, which is a better ratio than he is given credit for.
"It was a perfect first touch," Wenger purred of Giroud's technique, "and you need that if you want to score the goal. What I liked is that he used his upper body first to make some space.
"Olivier's a great guy. He has gone through a difficult period, as you know, and that affected his game for a while and his confidence. But you could see he was refreshed tonight and he was up for it.
"At half-time, he came in he was very, very down because he missed a great chance but he responded well because he is a mentally strong guy."
Due to their obvious restrictions, West Ham were harmless, thereafter. Allardyce's side have come from behind to win on only two occasions this season and they did not remotely look capable of snatching a draw when a goal behind. Their play was one-dimensional and laboured, Diamé became frustrated, Carroll looked allergic to any pass played across the turf and Stewart Downing produced one of the worst individual displays in the top flight this term. Podolski concluded a neat move to spare Arsenal fans a nervy finale with his second but still looked unhappy.
Yesterday, Diamé was quoted as saying he was keen on joining a top six club.
"Well, he'll have to perform better then, won't he?" roared Allardyce. If only his team were as tigerish.
Related