More than £24,000 has been donated to charity in memory of a runner who died after collapsing at the finishing line of Sunday's London Marathon.
His JustGiving page has seen more than 2,000 donations to the charity in the hours after his death was announced.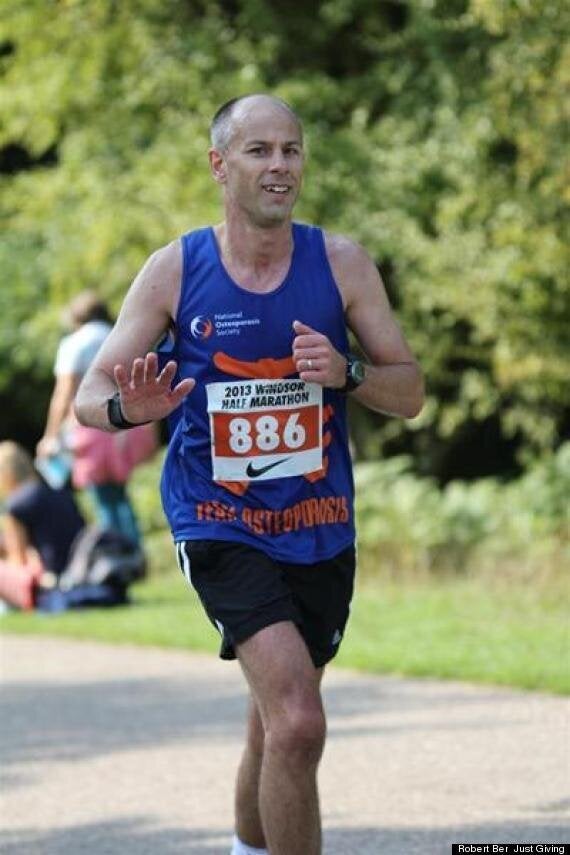 Robert Berry collapsed and died at the finish line of Sunday's London Marathon
Mr Berry said on the website that he was supporting the charity in tribute to his "inspirational" mother, who was diagnosed with a brittle bone condition aged 52.
The amount raised at 7pm on Monday night stood at almost £3,000 but by 5am on Tuesday morning it had reached £24,146 including donations from America.
In a message on his personal website, Mr Berry, from Reading wrote: "This page is dedicated to my mum, who despite being diagnosed with osteoporosis at the relatively early age of 52 years, has been an inspiration through the continued positive outlook she has displayed ever since, despite some quite clear discomfort."
The National Osteoporosis Society said in a statement on its website: "It is with great sadness that the National Osteoporosis Society has learnt of the death of Robert Berry, one of our runners in this weekend's London Marathon.
"The charity would like to express its heartfelt condolences to Mr Berry's family and friends."
Claire Severgnini, chief executive of the charity, said: "Our immediate concerns are for Mr Berry's family. Our thoughts and deepest sympathies are with them at this tragic time."
The charity added that it will not be releasing any further statements.
Tributes and donations began pouring in after news of his death broke.
Mark Jameson, who also ran in Sunday's race, donated £10 and wrote: "God bless you Rob. Your family must be so proud of you, raising money to help your Mum and others. So sorry it had to end in this way. RIP."
One anonymous donor added: "I didn't know you but am so sad you gave your life doing such a wonderful thing. God bless you."
Another read: "In memory of Mr Berry (RIP). You gave your life trying to do good for others."
A statement from race organiser Virgin Money said: "It is with regret that we can now confirm that Mr Robert Berry, aged 42, collapsed at the finish of the London Marathon. He was immediately taken to one of our medical facilities where he was treated by four consultants, including one in emergency medicine. He was transferred to St Mary's Hospital, where he was pronounced dead.
"The organisers of the Virgin Money London Marathon would like to continue to express their sincere condolences to the family and friends of Mr Berry and our thoughts and deepest sympathies are with them all at this difficult time."
The last death in the event was in 2012 when hairdresser Claire Squires, 30, from North Kilworth, Leicestershire, collapsed a mile from the finishing line and died later from cardiac failure.
Mr Berry, who worked in IT services, ran the Reading half marathon last month.
His website includes an interview with his mother Anne, where she describes having limited mobility as a result of osteoporosis.
"Despite the regular pain and discomfort, with the two hip operations on bones the density of someone typically the age of 100, I am able to walk short distances and with my husband's support it is manageable," says Mrs Berry.
According to his training regime, Mr Berry had been preparing for the marathon since December.
Related