Given that Pharrell Williams's biggest hit is called 'Happy', we were surprised to see this video of him crying - but luckily they were tears of joy he spilled during an interview with Oprah Winfrey.
In his chat with the TV legend for her show 'Oprah Prime', Pharrell was shown a video montage of fans dancing to his No.1 song 'Happy', and was all of a sudden overcome with emotion.
He told Oprah: "It's overwhelming because I love what I do and I just appreciate the fact that people have believed in me for so long that I could make it to this point, and feel... to feel that."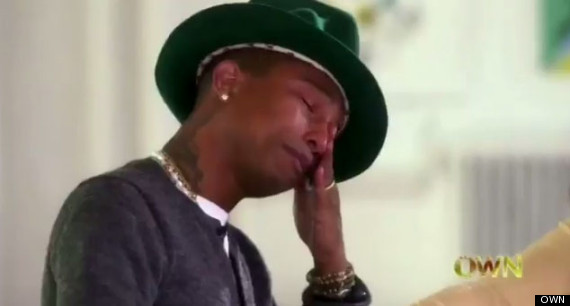 Pharrell Williams is overcome with emotion during his interview
Later in his interview, Pharrell also discussed his songwriting techniques, and revealed that a number of his hits were actually written in the shower.
He said: "When I have a really good gut feeling about something, it's written in the shower or on a plane. The water attracts your ear. You get distracted and your mind wanders."
Since topping the charts at the beginning of 2014, the music video for 'Happy' - which features Pharrell and a host of other people, including some celebs making blink-and-you'll-miss-'em appearances - has spawned a number of parody versions on YouTube.
A mammoth 24-hour-long version of the video also exists, which rather puts Lady Gaga's 11-minute 'G.U.Y.' video to shame.
As well as his solo career, Pharrell contributed to two of 2013's biggest chart-toppers, Daft Punk's 'Get Lucky' and Robin Thicke's conroversial 'Blurred Lines'.
SEE ALSO:

The People Of The Internet Dance To Pharrell Williams' 'Happy' (VIDEO)

People Of Luton Dance To Pharrell Williams' 'Happy' And It's Utterly Joyous (VIDEO)
href="http://www.facebook.com/HuffPostUKEnt"target="_hplink">LIKE US ON FACEBOOK

| FOLLOW US ON TWITTER