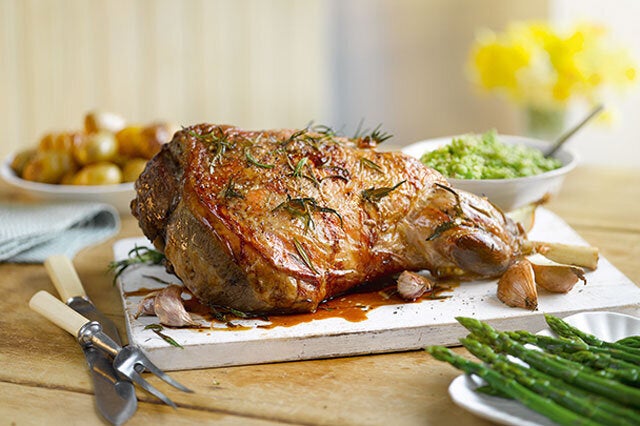 Roast lamb with mint pesto
This delicious roast lamb dish is perfect for Easter Sunday. The addition of the pea and mint pesto gives the traditional roast an interesting kick.
Cook time: 1 hour 35 minutes plus 45 minutes to cool. This recipe also suggests you chill the meat for two hours - or overnight - before cooling and cooking.
Serves:
6
Ingredients:
3 cloves of garlic, thickly sliced
2 carrots, cut into chunks
For the pea and mint pesto:
1 small bunch mint, leaves only
12 blanched almonds, toasted and roughly chopped
1 small clove garlic, crushed
(37ml) 2 1/2 tbsp olive oil
1. Using the point of a sharp knife, make small incisions all over the lamb, then poke a slice of garlic into each hole. Cut the rosemary into smaller sprigs and push them into the incisions too. Cover and chill for at least two hours, preferably overnight.
2. Take the lamb out of the fridge one hour before roasting to allow it to come to room temperature. Heat oven to gas 7, 220 C, fan 200 C.
3. Place the chopped onion and carrot in a large roasting tin, then sit the lamb on top, season well and drizzle over the oil. Roast for 15 mins, then turn down to gas 5, 190 C, fan 170 C and roast for a further one hour 20 mins.
4. Remove the lamb, cover lightly with foil and leave to rest in a warm place for 30-45 mins. Now is the time to pop your roast potatoes in the oven.
5. Meanwhile make the pesto sauce. Boil the kettle and pour over the peas, leave to stand for 1-2 mins. Drain the peas, then run under cold water. Once cool transfer to the small bowl of a food processor. Add the remaining ingredients and blend to a smooth paste.
6. Season and transfer to a serving dish. Strain any lamb juices from the roasting tray into a small saucepan. Add any resting juices and heat through. Slice the lamb and serve with the roasting juices and pea and mint sauce.