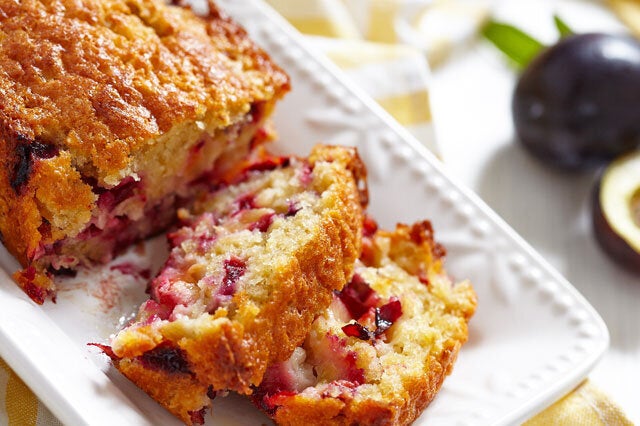 Yoghurt cake by Lisa Faulkner
This delicious cake is lovely and moist thanks to the natural yoghurt. Best served warm.
Serves:
2 teaspoons of baking powder
1 orange, the rind cut off in strips and the juice
1 Vanilla Pod, slit open and the paste scrapped out
1. Split the plums and remove the stones, place in a pan with all the ingredients and then cover with water.
2. Bring to the boil and simmer for three minutes, turn of the heat but leave them on the stove to soften.
3. Preheat the oven to 180 degrees. Place all the ingredients in a mixing bowl and stir well to remove all lumps.
4. Grease the loaf cake tin with a little margarine or oil and pour half of the cake batter into the mould.
5. Take the plums and drain well, but reserve the liquid. Place the plums all around the ring mould and then top with the rest of the cake batter.
6. Place the cake in the oven at 180 on the centre shelf and cook for 30 minutes until golden brown.
7. Take the remaining syrup and bring to the boil, reduce by half, strain and then discard (keep the vanilla pod for sugar) and then place back over the heat and reduce to a syrup. Serve warm.