Ricky Gervais has revealed the surprise inspiration behind his character 'Derek', who returns in the second series of Gervais' comedy drama set in a retirement home.
Ricky tells Huffington Post UK:
"I like those programmes that reward the person who's helping the people, and Derek's sort of based on that a little bit.
"I watch those shows like 'Secret Millionaire' and it showed this person who's got nothing, and all they do is help others, and you want to go, 'you're amazing, the amazing one.'"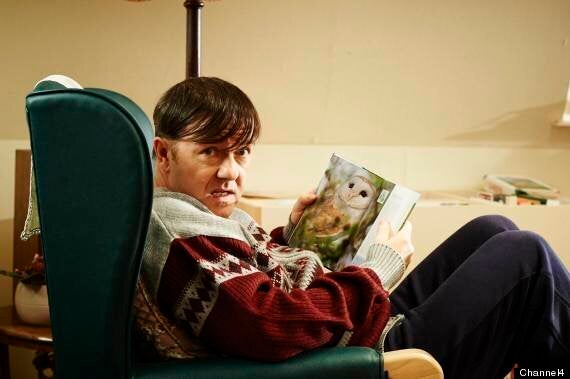 'Derek' is back for a second series starting next week on Channel 4
The second series, which starts next week, sees a few changes among both the residents and personnel in the home. Derek's father, whom we met briefly in the first series, becomes a full-time resident, as well as a hit with the ladies, while the departure of caretaker Dougie, played by Karl Pilkington, makes way for a new staff member Jeff, who appears to be a rotten apple.
Ricky Gervais has had global success with both 'The Office' and 'Extras', both of which he had the wit to finish after two series and a special, but he admits that there might be some more juice in 'Derek'.
"This is the first thing I've ever considered doing a third series of, I must admit," he reflects.
"But I'm not going to do it for the sake of it, if it's not worth it. The story's got to dictate, and you don't even know that until you've started writing it already.
"I think the second series is usually my favourite, and often the best, technically, but a third series isn't always.
"Sometimes you want to condense that and have the sheer joy. Both specials of "The Office' and 'Extras' were probably my favourite single episode of each show."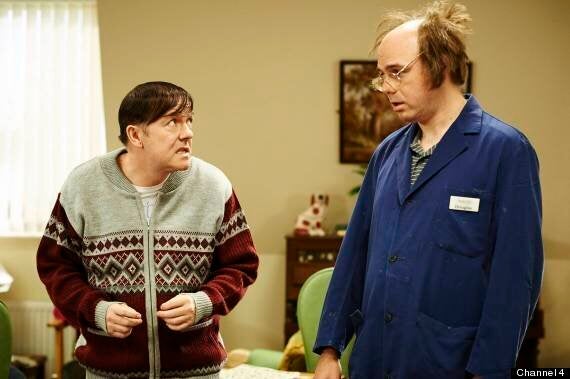 Ricky's pal Karl Pilkington is only seen fleetingly in the new series, making way for new rotten apple Jeff to replace him as caretaker
Either way, Ricky is making no room for critics of the show - of which there are many, generally either claiming it to be over-sentimental, or furious with his refusal to classify his title figure as mentally handicapped - to mess with his vision...
"This is my story. I'm making it up. I am God," he laughs. "Artistically, you have to be a fascist. It's not a democracy. I'm not interested in designing a sitcom by committee.
"They take what they're given, or they don't. I don't force it on them. I don't try to persuade them to like it. They're not wrong if they hate it. They're right if they hate it and they're right if they love it. If someone says I'm funny they're right, if they say I'm not funny they're right. It's subjective.
"But what's not subjective is whose opinion I care for. That's objective. It's mine. That's it. When anyone says, 'This is where he went wrong,' I want to write them a letter, saying 'You can correct it with your own sitcom. You can make this right by just doing it yourself.'
"I was a critic once, I used to sit and watch telly and say 'I could have done better than that,' and there's only so many times you can do that before you have to put your money where your mouth is."
CHECK BACK HERE for our exclusive extended interview with Ricky Gervais this weekend, where he discusses what he's spotted about people in Hollywood, on staying true to his creative self and what he believes to be at the root of kindness.
'Derek' will be back on Channel 4 on 23 April at 10pm on Channel 4.