Sharon Osbourne has hit out at Lindsay Lohan, claiming she doesn't believe the actress's recent revelation that she had a miscarriage.
Lindsay revealed earlier this week that,during the taping of her docu-series, she suffered a miscarriage, which caused a halt in filming.
She said during the series finale of 'Lindsay': "No one knows this, I had a miscarriage the two weeks that I took off."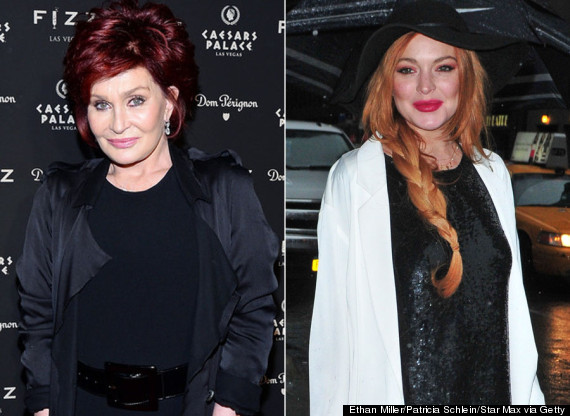 Sharon Osbourne and Lindsay Lohan
However, Sharon has slammed Lindsay's story on the American show 'The Talk', where she is a regular panelist, branding her claims "codswallop".
She said: "I think she probably had diarrhoea or something. I don't believe she had a miscarriage, I believe she's quite confused and I've had enough of watching her trying to make her life better.
"Everybody uses that as an excuse. What a load of old codswallop!"
Sharon, whose husband and children have battled addiction in the past, also had some advice for Lindsay, saying: "Nix the drinking, dear, nix the partying, love, stay home!"
This isn't the first time Sharon has let her mouth run away with her while taping 'The Talk'.
She previously landed herself in hot water after describing an incident where a woman had cut off her partner's penis as "quite fabulous" and laughing, and was forced to make an apology on the show the next day.
Meanwhile, she last year had to apologise to the presenters of 'The View', a rival show to 'The Talk' in America, after telling them that they could "go f*** themselves".
href="http://www.facebook.com/HuffPostUKEnt"target="_hplink">LIKE US ON FACEBOOK

| FOLLOW US ON TWITTER