Yiannis Chryssomallis achieved international recognition by producing concerts at historic monuments and by producing videos that were broadcast on public television in his native Greece.
His breakthrough concert in 1993, 'Yanni Live at the Acropolis', yielded the second best-selling music video of all time.
Two decades later, Yanni has performed to more than two million people in more than 20 countries across the world, and sold more than 20 million albums.
'Inspirato' is his 17th studio album, for which he has recruited the world-class talents of Placido Domingo and other operatic stars, adding their voices to established tunes to create a brand new catalogue of sound. Ahead of his London concert this week, Yanni speaks to HuffPostUK about the romantic inspirations behind his music, and juggling famous people's schedules...
This is your seventeenth studio album - what was the inspiration behind this one?
This album took 4 years to record and 30 years to compose the music that inspired it. The songs that this album is based on are really about the loves of my life.
The love for my parents, for my country, for humanity, for the planet and romantic love. When lyrics were written for these instrumental songs, I was touched by the emotion that was conveyed. The emotion conveyed by the lyrics represents very closely my inspirations and feeling when I wrote the instrumental versions.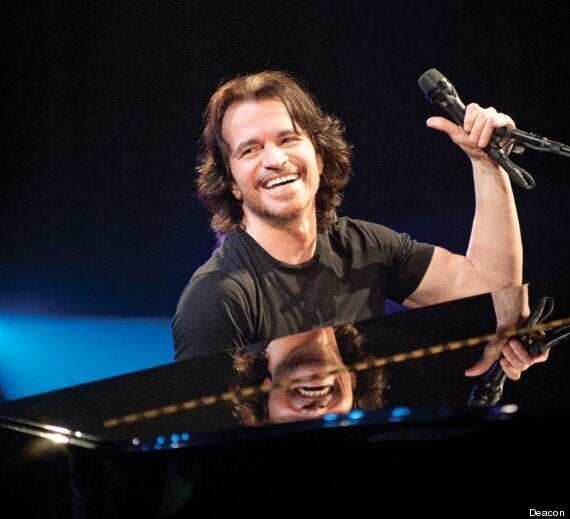 Yanni is onto his 17th album, but still as passionate as ever
Do you ever feel intimidated working with such varied genres of artists such as Placido Domingo and, if so, how do you overcome that so you can get to work?
All the artists that we worked with on this album were wonderful. With Placido Domingo helping to lead the way with the artists, we were introduced to everyone on a very favourable basis.
We then spent a lot of time to get the right song matched with each artist. In some cases we had to work on several songs until we found the right one that worked for each artist.
I also appreciated how difficult the schedule is for these world class stars. Finding the time for them to record in their schedule was challenging and we ended up recording the album over 4 years in Rome, Berlin, Milan, UK, New York, Los Angeles and Florida.
More than being intimidated, I am honoured that these artists were able to complete such magnificent performances of my music. I love this album, I think it is beautiful. It is not opera, but it does use many of the most beautiful operatic voices in the world.
After so many sales, albums and tours - how do you keep it fresh?
Luckily I love what I do. For me, being an professional musician is about interacting with people. I have musicians in the orchestra who I believe are the best in the world. Being able to interact and perform with these long timefriends and colleagues is like having an enormous family. These relationships always keep this career interesting.
Which do you prefer, composing or touring and performing, and why?
I love both composing and touring and for me, they complement each other perfectly.
Being in the studio and composing is a very solitary process and is very healing for me. It is something that I have done for decades and will always be an important part of my creative life.
On the other hand, nothing feels better to me than when we perform live for an audience. Being able to travel the world and meet new people and learn from different cultures ensures that there is always a new and fresh experience right around For me, being an professional musician is about interacting with people. Touring does get very tiring, especially how we tour in so many different countries. So when the time comes, to take a break from touring and working on composing is a welcomed change.
What is the biggest challenge to music-making these days for you?
With our busy touring schedule it makes it difficult to find the time for composing. This process requires full attention and a clear mind to be focused on creating. When I compose,I need to be able to spend whatever time is needed and to be able to be unrestricted in what I do. The minute I stop and have to judge what I am creating, whether it is good or bad, I have removed myself from the creative process.
And what is your trick for dealing with that?
With the advent of technology, it has made it possible to try more ideas and get much more accomplished in a shorter period of time. This allows me to be explore many more ideas and have the opportunity to experiment with new sound designs never available before. So when I do set time aside to compose, I can be more productive than ever before. In fact, for me, there has never been a more positive and efficient time to make music.
Yanni performs at the Royal Albert Hall in London on 23rd April - tickets at www.kililive.com. Inspirato is out now on Sony Music. Here's a teaser below...
Popular in the Community