A number of sighs were exhaled when the Champions League semi-final draw was made, and it was not solely down to confusion over whether Thibaut Courtois could play against Chelsea. Fair-minded neutrals may be few and far between, but it was hoped Bayern Munich and Real Madrid would be kept apart ahead in the last four.
Madrid versus Bayern would have provided a blockbuster final in Lisbon. Madrid are still searching for la décima, a 10th European Cup 12 years on from número nueve, while Bayern are bidding to become the first side to retain the cup under the Champions League format. Their semi-final is a tie featuring the best goalkeeper, full-backs, midfield and player in the world, as well as the most expensive footballer in the game's history. It is a chance for Pep Guardiola to face his old foe - albeit without José Mourinho - with Carlo Ancelotti in the dugout; two coaches battling to win their third European Cup as a manager. It is also an occasion where old wounds could be reopened.
Arjen Robben can be forgiven for the occasional boast at the Santiago Bernabéu Stadium this evening. The Dutchman was one of the major squad casualties, along with Wesley Sneijder, when Florentino Pérez returned as Madrid president in 2009 and spent over £200 million on Cristiano Ronaldo, Kaká and Karim Benzema. Only Robben has not only played in a Champions League final since, but scored the winner and received the man of the match award at Wembley last year.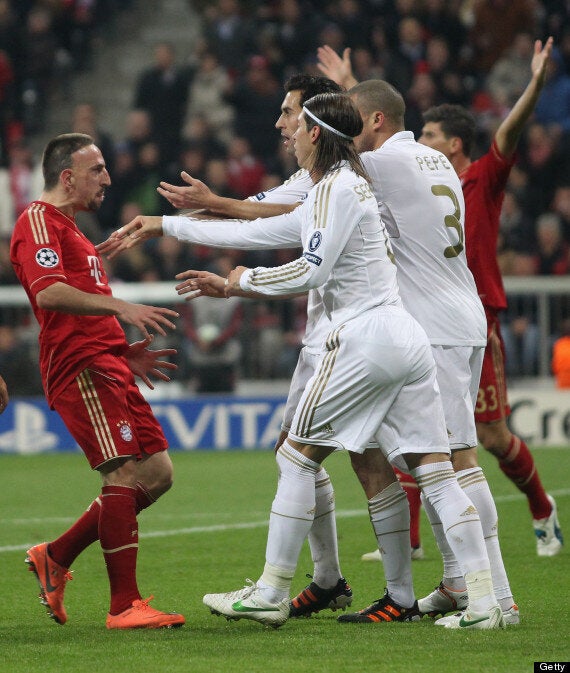 The likely lads: Franck Ribéry, Pepe and Sergio Ramos get into the rivalry spirit
Tonight is the 15th time the clubs have faced each other in the Champions League knockout stages since the turn of the century, two years after Sergio Ramos blasted the ball into outer space during Bayern's victorious penalty shootout. The calmness had returned to the rivalry, despite a brief flare-up between Pepe and Franck Ribéry, and even Mourinho was gracious in defeat with his counterpart, and former Real manager, Jupp Heynckes.
However, the history between the teams is laced with bitterness and violence.
The enmity stems from 1975-76 European Cup semi-final, when Real's Roberto Martínez broke his nose in a collision with Bayern goalkeeper Sepp Maier, while a fan known as "El Loco del Bernabéu" (The Bernabéu madman) invaded the pitch and attacked the referee and Bayern striker Gerd Müller.
Der Bomber's double on the night ensured a 3-1 aggregate Bayern win, as they went on to the win the competition for the third year in a row. So impressive is Bayern's record against Real that Madridistas have nicknamed them La Bestia Negra - the Black Beast.
However, the most outrageous incident came in another last four collision 11 years later. Again Bayern won, but the match was dominated by Juanito's stamp on Lothar Matthäus' back and head as he lay on the turf. Juanito, who died in a car crash in 1992 at the age of 37, was given a five-year European ban.
Real's Galacticos era saw Oliver Kahn emerge as the club's bête noire when they and Bayern were drawn against each other in five out of eight seasons. Bayern's Peruvian striker Claudio Pizarro boasted prior to the 2004 round-of-16 tie: "We're going to score five goals against those clowns."
Real however had the last laugh, winning 2-1 on aggregate, with Kahn feebly spilling a Roberto Carlos shot into his own net.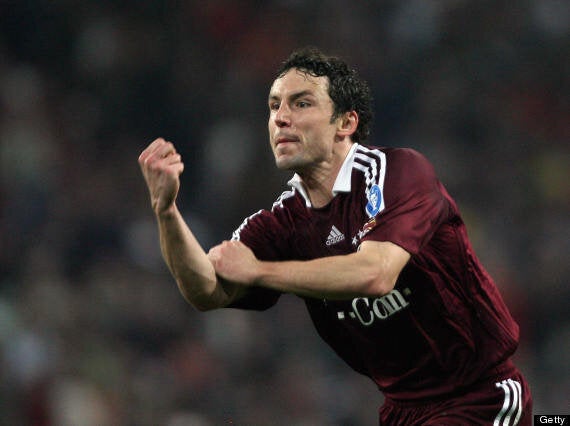 Mark van Bommel: German in every way, bar his nationality
Popular in the Community