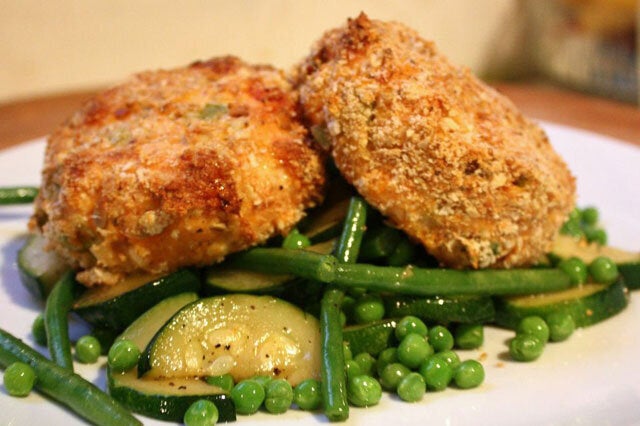 Salmon and sweet potato fish cakes by Holly Bell
I love fishcakes, from posh gastro pub ones to the mush they breadcrumb and fry from the local chippy. There's something perfect for me about eating fish in such a low admin format. No bones, no skin, just the best bits combined with mash. It think deserves more than your average white mashed potato fish cake treatment, so turned to the wonderful sweet variety so loved by babies. The combo works well flavour-wise, even if it does look a little radioactive.
2 fillets of salmon (uncooked and skinless), chopped into 1cm squares
2 medium sized sweet potatoes
1 tsp of ground black pepper
2 handfuls of breadcrumbs
1. Peel the sweet potatoes, chop and boil until tender, then drain and leave to cool in a sieve (and also for the steam to evaporate.) Then mash. Add the salmon, spring onion, dill and salt and pepper and mix gently with a metal spoon until combined. You're looking for a mixture that's more fish and onion than sweet potato. The potato is mostly a binding agent.
2. Pop the oven on to 200°C (180°C fan-assisted), gas mark 6.
3. Next get a production line going. You need three small plates, one with the flour on, one with the beaten egg on and one with the breadcrumbs on. Divide the mixture into four and mould each quarter into fish cake shapes. They can be a bit tricky to handle as they have so little potato but it's worth it. Dip each fish cake carefully into the flour first, then the egg, then the breadcrumbs. Pop each one onto a baking tray.
4. Oven bake for 20ish minutes until the breadcrumbs are starting to go a golden colour and the cakes feel firm to the touch, then serve with wa medley of green seasonal vegetables.
No parent deliberately feeds their children food they think is bad for them, but we're all busy and sometimes it's hard to serve up meals that are completely free of junk. But from April 28, a campaign will be launched to challenge us to do everything we can to cook with fresh, natural ingredients – and to challenge the food industry to remove the hidden nasties that lurk in our kids food.
The 'No Junk Challlenge' organised by Organix, which produces organic toddler and baby food, is calling on the government and food industry to address the artificial additives and to remove the high quantities of added salt, fat and sugar content in foods targeted at children. Sounds good!
If you want to get involved, from 28 April to 4 May, you can pledge to feed your family using real ingredients and to try to avoid foods with artificial colourings and flavourings, or foods high in added salt, fat and sugar. The campaign is supported by Holly Bell (finalist in series two of the 2011 Great British Bake Off and blogger 'Recipes from a Normal Mum') and the Crumbs Sisters (creators of the popular 'Crumbs' Blog). River Cottage and Leon will also be contributing recipes during the week of the challenge.
Parents will be able to take part in fun activities to explore what is in children's food, help expose some of the junk, and share their own healthy and delicious recipes to cook simple meals with natural ingredients.
If you'd like to get involved and sign the pledge go to Organix.com/nojunk or join the conversation on Twitter using the hashtag #NoJunk.