'Mario Golf: World Tour' is out for the Nintendo 3DS on 2 May 2014.
'Mario Golf: World Tour' is a bright and attractive golf game which blends the simplicity of previous entries in the long-running series, and the usual Mario characters and big-hearted cartoony style, with some much needed variation and online play.
The controls are pretty simple - as long as you want them to be. At its most basic you just press once button for power and away you go. 'Manual' is slightly more complex, but just as traditional. You simply line up your shot, press once to swing, once for power and once for accuracy. The range of Super Shots present in the game - which give you more power, accuracy or collect coins on the way etc - add more variation, but are limited to a few uses per course.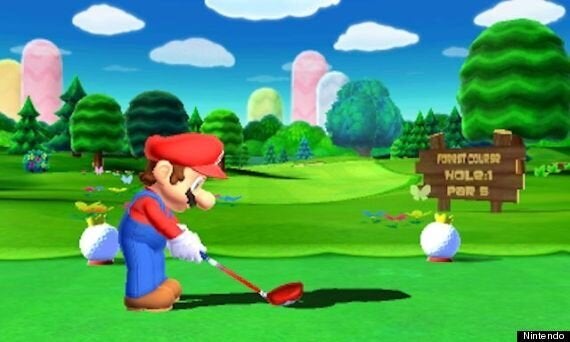 The range of courses is large, taking in various traditional-style courses and action-packed 'zany' courses from the world of Mario. There are 10 in total, with more coming in three separate DLC packs if you really like your golf. If you play in the explorable golf club then you play as your Mii, competing in tournaments and buying new items and clubs to improve your performance. If you play in a 'quick round' you can play as Mario or any of his buddies/enemies. You can also play online in a variety of leagues, matches and tournaments.
The bright side is that this is a very playable and addictive little game, with accurate controls, well-designed courses and loads of content. The downside is that if you've played a game like this before, it's not tremendously thrilling or original. At times it also suffers from rough design - it's occasionally hard to tell where your shots are aiming, and putting isn't easy.
Still, if you want a golf game for the 3DS you now have a default answer. And if you want something quick and addictive to play on the beach, you can't do much better on the 3DS.